Honda is to build an all-electric sports car as a spiritual successor to the two-seater S2000. A working prototype with four electric motors replacing a petrol engine already exists and the project has been in the works since 2012.
A tuned down version of an all-electric car that took on the Pikes Peak hill climb earlier in 2015, the modified CR-Z has an electric motor powering each wheel, making a total of 250 horsepower. Honda has suggested up to 350hp could be achieved relatively easily.
Revealed on the eve of the Tokyo Motor Show, and as traditional car makers begin to take Tesla and its all-electric vehicles seriously, the Honda is merely a production mule for now, using the heavily modified chassis of an existing car to test out the new battery tech.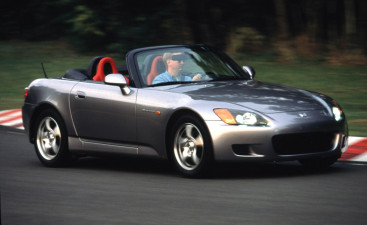 In its current form, with just 250hp and weighing a chunky 1,600kg, the car can still accelerate to 60mph in a supercar-bothering 3.5 seconds; early reports also praise the vehicle's excellent traction and cornering ability, helped by the motors offering instant torque, four wheel drive and four wheel steering.
As for range, Honda says it is targeting between 250 and 300 miles per charge "to make customers satisfied". This could be a stretch for the 16kWh battery currently installed in the development mule, so we can expect the performance to drop in favour of extended range. Hopefully Honda finds a comfortable middle ground allowing for the car to remain small and nimble without weighing it down with batteries.
A project three years in the making
Speaking to Autocar, a "senior project source" with knowledge of Honda's electric car plans, said: "We started this car back in 2012, not as a race car but as an all-electric sports car for public sales. We are making every possible effort to make it to the market. More specifically, with the success at Pikes Peak we have verified that the testing period is completed. Now we have to think about the commercialisation of it."
How Honda prices its first all-electric sports car will be crucial if it is to succeed commercially. It has been speculated that it could be priced at around £65,000, putting it above the S2000, which is no longer on sale, but below the upcoming Honda supercar, the new £120,000 NSX, which is itself a hybrid with a petrol engine and three electric motors.
The only detail Honda is keeping close to its chest is when the car might go on sale. With battery prices falling all the time, it is difficult for car makers to decide when to pull the trigger and put a new electric model into production; a rival could wait six months and significantly undercut it.