The Hong Kong dollar has broken its long-held tight range and plummeted to a six-month low against the US dollar as rising tensions in Asia's financial capital severely affected the investment outlook for the city state under Chinese rule.
The USD/HKD rose to as high as 7.7583 on Monday, its highest since mid-March, adding to the local dollar's losses last week; it was at 7.7578 at Friday's close.
Since April, the pair had been holding a 50-pips range above 7.7490, beyond which the authorities had been preventing the appreciation of the local currency as part of their foreign exchange policy.
The HK dollar lost momentum on Thursday and since then, the USD/HKD pair had rallied by 130 pips to Monday's high.
The Hong Kong currency is headed for its steepest monthly decline since January 2011 when it registered a 0.3% fall. At its weakest point on Monday, the Hong Kong dollar is down 0.18% on the month.
Technical Analysis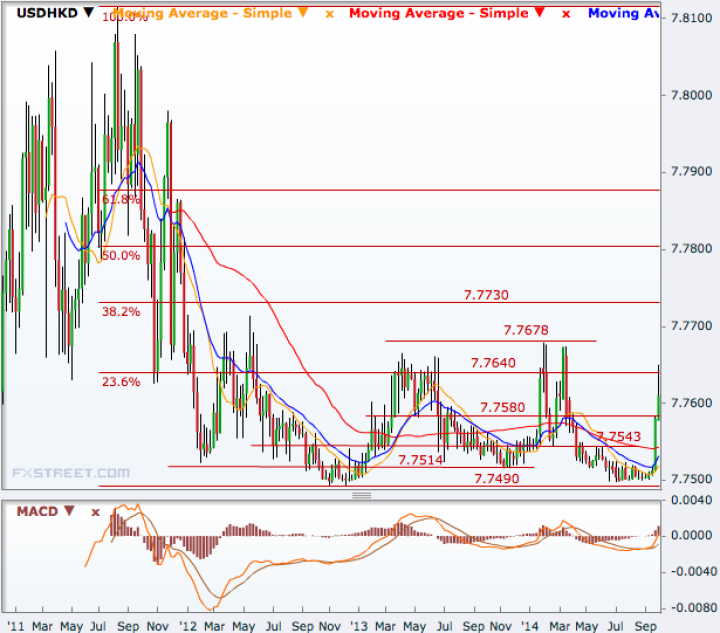 With the jump on Monday, the USD/HKD pair has broken above the 23.6% Fibonacci retracement of the selloff in the one year through November 2012.
The next important level on the higher side is 7.7678, this year's high posted in January. A break of that will push the local dollar to a 29-month low.
The next level will be the 38.2% line of 7.7730, a break of which will threaten the downtrend since early 2011 and expose weaker levels for the HK currency.
Immediate support for the pair will be 7.7580, last week's high, and then 7.7540, a short-term median line, will be in focus.
Another level to watch will be 7.7514 ahead of the long-held support of 7.7490, at which the currency will likely see central bank intervention.
Better US growth figures and the continued strengthening of the greenback are weighing heavily on currencies including the Hong Kong dollar.