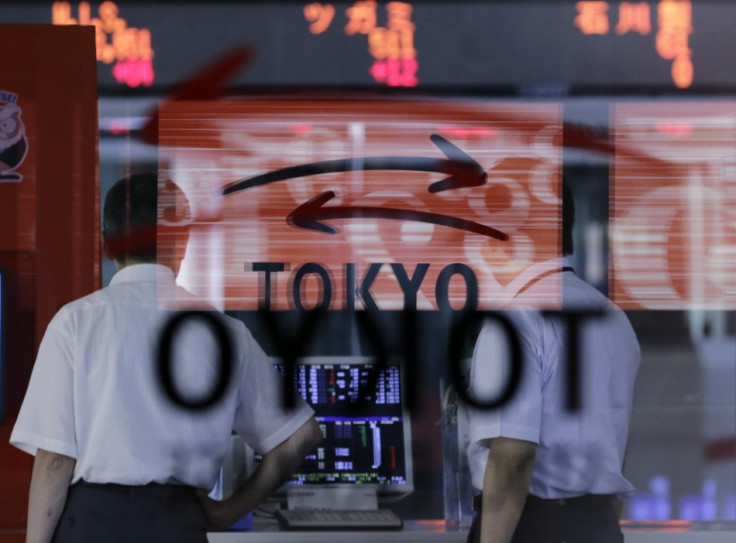 Most Asian markets have ended in the red on renewed eurozone concerns sparked by Spain's grim financial situation as investors await quarterly earnings figures from US companies.
Japan's Nikkei average closed 0.58 percent down or 49.45 points lower at 8546.78 while South Korea's KOSPI dropped 0.78 percent or 15.13 points to 1933.09.
China's Shanghai Composite Index was also down 0.81 percent or 17.07 points to 2102.87. Hong Kong's Hang Seng index gained 0.38 percent or 79.45 points to 20999.05.
India's Bombay Stock Exchange traded higher by 0.33 percent or 62.07 points at 18693.17 at 09:15 GMT.
Concerns over the European debt crisis continued after rating agency Standard and Poor's downgraded Spain's credit rating to BBB-minus level, just one spot over junk status.
Moody's, which has already placed the country one notch above junk, is also expected to review the rating later this month. Investors worry about the country being downgraded further to junk.
The US earnings season kicked off unofficially this week, adding more disappointment to the markets. US stocks were down on the previous day after aluminium giant Alcoa and energy firm Chevron warned of weak performance.
Meanwhile, South Korea's central bank cut its benchmark interest rate by 0.25 percent to 2.75 percent as expected, in a bid to support the country's economy as global demand slumps. The export-dependent economy has been badly hit by a decline in shipments, which fell 1.8 percent year on year in September.
Japanese investors remained discouraged after reports that the country's machinery orders fell more than expected in September, by 3.3 percent.
The economic impact of anti-Japan protests in China also continues to affect investor sentiments. Earlier this week, J P Morgan said in a report that Japan's auto exports to China could fall by 70 percent in the three months ending December.
Shares of Toyota Motor fell 1.36 percent in Tokyo. The carmaker had more than the falling Chinese sales to worry about after it had to recall 7.43 million vehicles globally due to faulty power window switch.
Other auto majors Nissan Motor and Honda Motor also fell by 1.20 and 0.64 percent as the yen strengthened against the dollar.
Construction related firms were down in Shanghai. Lawton Development was down 9.10 percent while Shanghai Construction fell 9.27 percent. Hainan Island Construction was also lower by 6.80 percent.
Retailers fell in Seoul. Shinsung Tongsang was down 9.09 percent while Will-bes fell 8.54 percent.
Chinese financial institutions gained in Hong Kong following media reports that an investment division of China's sovereign wealth fund had boosted holdings in major banks through the secondary market.
Industrial and Commercial Bank of China was up 4.26 percent while Bank of Communications gained 3.50 percent. China Construction Bank Corporation and Bank of China were also up by 3.10 and 2.70 percent.
Telecom major Bharati Airtel was up the most in India, by 2.39 percent, followed by Bharat Heavy Electricals which gained 2.28 percent.