Hong Kong Pro-Democracy Protests Continue as CY Leung Sets Deadline
Activists ignore warning by city's chief executive to clear streets before Monday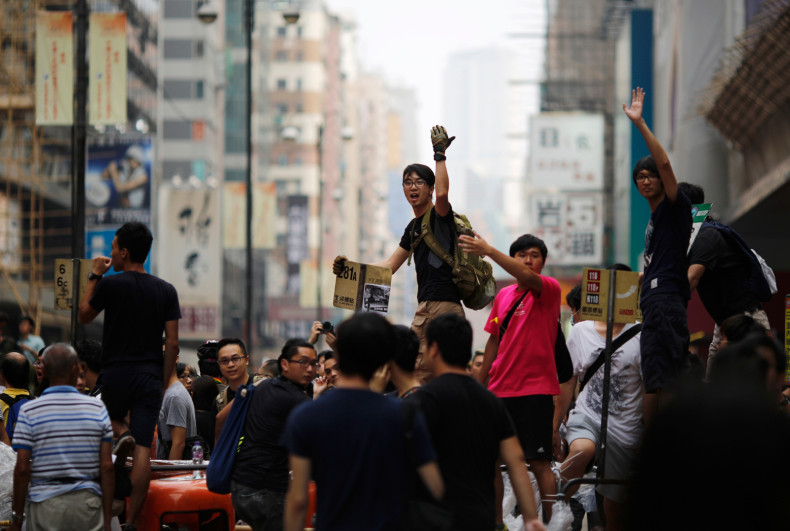 Even as Hong Kong's chief executive CY Leung#mce_temp_url# set a deadline for the pro-democracy activists to end their protests, pro-democracy campaigners have continued to take to the streets demanding that the Beijing-backed administration undertake political reforms.
Protesters gathered overnight near the government headquarters in the biggest turnout so far.
Clashes between the protesters and riot police were also reported.
"We only target CY [Leung], not other government officials. By opening a route, CY will have no reason or excuse to clear out occupation and spread foul rumours," Benny Tai, one of the movement leaders, told a gathering.
CY Leung has stressed that life must return to normal by Monday morning.
In a televised address, Leung said: "The government and the police have the duty and determination to take all necessary actions to restore social order so that the government and some seven million people of Hong Kong can return to their normal work and life."
Hong Kong's authorities have admitted the police lacks the experience to deal with protests on this scale.
In a blog post Hong Kong financial secretary John Tsang Chun-wah wrote: "The high speed of development over the past week was completely out of everybody's expectation. It's hard not to be concerned that more serious chaos could happen. Undeniably, the transformation of the mass movement this time is unprecedented. The government, political parties, community groups, the media and the public have no experience and psychological preparation to face this situation, making it all the more difficult to resolve."
McDonald's free toothpaste offer
Meanwhile, a branch of McDonald's in Causeway Bay, a key venue of the protests, is offering free toothpaste with its meals for the protesters.
McDonald's said the protesters will receive a "good morning gift", costing about HK$8, with their meals.
"Get a refreshing 'good morning gift' when you choose any of these tasty Extra Value Breakfast Meals," a notice on the counter reads, according to the South China Morning Post.
The restaurant has been doing a roaring business, thanks to the Occupy and student protesters.