How Barcelona pair Paco Alcácer and Andre Gomes have complicated Southampton and Spurs transfer plans
Ernesto Valverde's success at the Nou Camp has included deploying the pair with aplomb.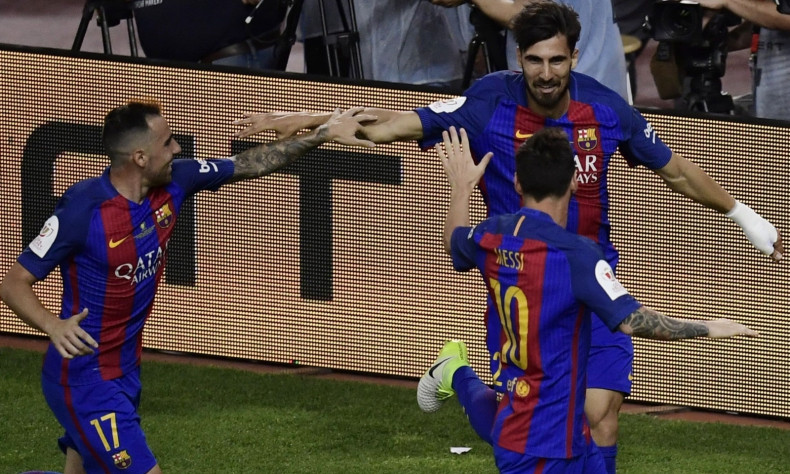 Paco Alcácer is starting to display his potential at Barcelona. Since he signed for the Catalans two seasons ago, he has been under constant scrutiny. In fact, he arrived at the club after a controversial search for a 'fourth man' to replace either Lionel Messi, Neymar or Luis Suárez in the event of injury or suspension.
There were many names in the shortlist, but none of the chosen options would accept such a minor role. The transfer window was about to close and Barcelona, desperate to sign a forward, had to pay €30m (£26.5m) to Valencia for Alcácer, who was not exactly what many supporters were expecting.
Neither was Andre Gomes, who also signed for Los Blaugranas during the 2016 summer transfer window for €35m. He even signed a clause that would see Valencia receive an extra €15m if he won the Ballon d'Or.
Since Ernesto Valverde arrived at the club, things have changes drastically for the duo. Some months ago, Diario Marca reported that Alcácer could leave the club as Mauricio Pellegrino's Southampton were interested in either a loan or permanent deal. The same newspaper also highlighted that Tottenham Hotspur would try to sign Andre Gomes, in an effort to bolster a squad fighting on two fronts in the Premier League and Champions League. "Tottenham even made a bid of €35m but Barcelona rejected it", added the Spanish newspaper.
When Spanish media reported Spurs' and Southampton's interest, both Alcácer and Gomes had played just a handful of minutes during the opening weeks of the current campaign. But Valverde has always needed a large squad during his tenures at Athletic Bilbao, Espanyol and Olympiacos; and the same has rung true at Barcelona. A month later, the Spaniard and the Portuguese play an important part in Valverde's rotation system.
Alcácer's first season was more than disappointing. Suárez, Neymar and Messi played almost every single minute and he just scored six goals in 21 games. But since Ousama Dembelé's injury, his opportunities have improved. His second brace for Barcelona in the 2-1 win over Sevilla took his recent run to nine goals in as many games.
Southampton may need to think about plan B. "I want to stay at Barcelona. I am very clear about what I want, to keep working hard and to get better every day alongside Suárez and Messi, who are the best forwards in the world and I learn a lot from them," he said.
"Personally, it's satisfying to score two and to help the team, because I don't play on my own and the team is the most important thing. We are a big squad and there are players that have to be left out. You have to work hard to get in the team and take the opportunities you get."
Thanks to Valverde's rotation philosophy, Gomes has also recovered motivation. He got injured during the Champions League draw at Olympiacos but he can play in many positions in the midfield, and that is vital for a manager who is starting to use a wide variety of tactical systems.
The immutable 4-3-3 is a thing of the past. Gomes's versatility is important for Valverde, and though he will miss the next five weeks due to a thigh injury, he will continue playing an important role in Valverde's master plan.
Last summer, Valverde wanted to sign Iñigo Martínez – but the club blocked the transfer, reflecting the lack of influence the new manager had on the club's sporting policy. After a superb start in La Liga, it is unlikely that the club will make a decision against the will of the manager again. However, the only option for Tottenham, should they remain interested in Gomes, is to try to convince Bartomeu with a huge bid. If the decision depends exclusively on Valverde, it seems unlikely they will have any chance of signing the Portugal international.