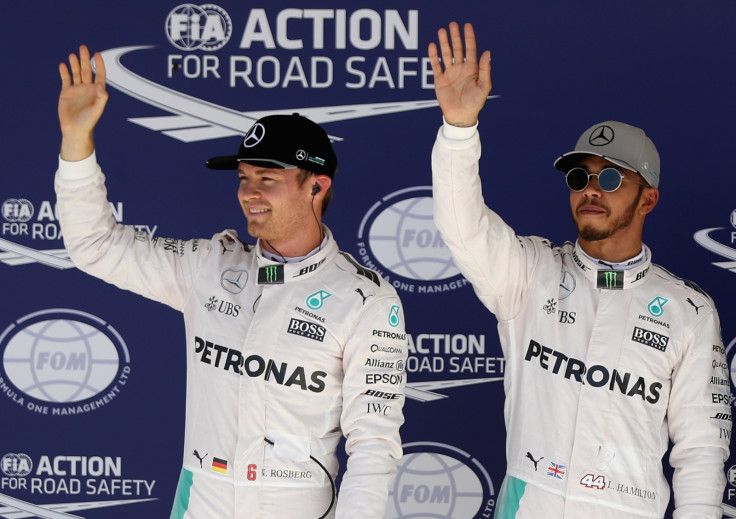 Lewis Hamilton produced a dominant drive from start to finish to win the Unites States Grand Prix on Sunday (23 October), rounding off an impressive weekend that also saw him set a new track record at Circuit of the Americas in qualifying.
Such a triumph, his first since July, was the 50th of his career to date and also saw the three-time word champion move within one victory of second-place Alain Prost in the list of all-time race wins.
Hamilton's record-equalling fifth success in America, the scene of his title-clinching win in 2015, crucially saw the divisive Briton cut Nico Rosberg's championship lead down from 33 points to 26. IBTimes UK now takes a look at how he can still defy the odds and move clear of the great Sir Jackie Stewart as the only British driver in history to seal four world titles...
What is the state of play after Austin?
Here is how the top of the Drivers' Championship looks after the US Grand Prix. Dominant Mercedes sealed their third straight constructors' crown with four races to spare in Suzuka earlier this month after Rosberg picked up his ninth win of the campaign and Hamilton, dropped to eighth on the grid due to yet more engine trouble, battled back from a sluggish start to cross the line in third.
1. Nico Rosberg - nine wins and 331 points
2. Lewis Hamilton - seven wins and 305 points
Red Bull's Daniel Ricciardo is 78 points further back in third, while Ferrari duo Sebastian Vettel and Kimi Raikkonen complete the top five.
A reminder that you receive 25 points for winning a race in Formula One, 18 for second and 15 for third. Fourth place brings in 12 and the numbers then drop by two for each position until 9th/10th, which are worth two and one respectively. No one who finishes outside the top 10 claims any points.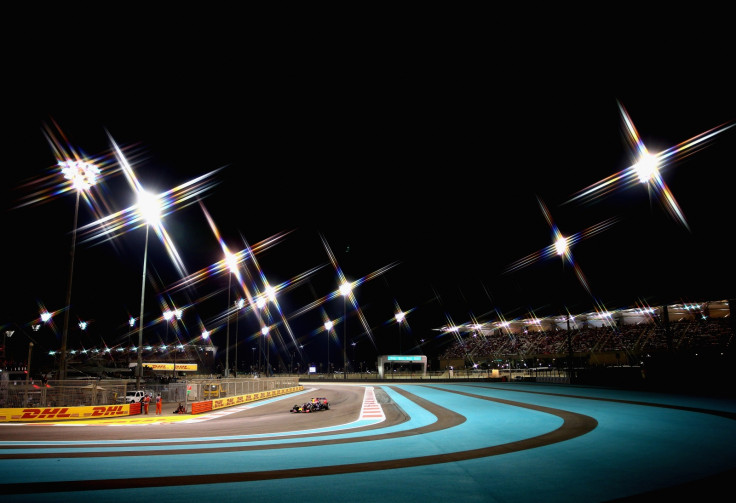 How many races are left in 2016?
Three. After Austin, F1 heads to Mexico City next weekend and then reconvenes in Sao Paolo a fortnight later. The season-ending race in Abu Dhabi, for which the unpopular awarding of double points was scrapped after just one year in 2014, takes place across the weekend of 25-27 November.
How can Hamilton still win the title?
We could spend a while listing every single possible permutation of how exactly it can be done, but, to put it simply, Hamilton must win all of those last three races and hope that Rosberg does not finish as the runner-up each time.
Two second-place finishes and one third would still be enough for Rosberg, although he would fall short if he comes in third twice and second once. Alternatively, if the German finishes second twice but falls to fourth or below in the other race, then he would miss out by a solitary point in the event of Hamilton winning all three.
What could go wrong?
There is often no accounting for unforeseen technical and mechanical issues, of course, something that Hamilton in particular will be very wary of. The 31-year-old has suffered from numerous engine failures during the 2016 season to date and admitted that he was wary of another potential problem in Austin after Mercedes broke a mechanics' curfew on Friday night to make a precautionary change to the fuel system on his W07 Hybrid.
"It is very stressful for the guys in the garage because there is a lot of responsibility and pressure on them, and everything that is being said, consciously or unconsciously, puts even more pressure," Mercedes team principal Toto Wolff said of the pressure facing his team's mechanics to ensure that neither driver suffers from reliability problems during the title run-in. "That's not the right thing to do. Our job needs to be to take pressure away because responsibility and accountability stays there anyway. This is how these guys work."
What have the main protagonists said?
Hamilton: "Honestly, I just focus on doing the best job I can. Honestly today, beyond doing the job... I felt comfortable doing the job, I was just the whole race concerned the car was not going to make it so right, I've been told the line, I was just in fear of the same thing, the same feeling, the sound that I heard in Malaysia, so I was grateful that the car made it across the line and I have a lot more confidence in his reliability. It's going well for him. I've just got to continue to do my job and hope for the best."
Rosberg: "I just feel that it's a pity that it didn't work out with a win this weekend. I was going for that. It would have been awesome here in America but it didn't work out. Lewis did a great job this weekend, all the way through, qualifying and race so it just wasn't to be. I'll live with second place now and next race is another great opportunity."