Jose Mourinho is still looking to find the perfect blend to his Manchester United attack. The arrival of Alexis Sanchez has prompted a reshuffle that still needs some fine tuning in order to fully accommodate both the Chile international and Anthony Martial, with both forwards seemingly build for life on the left.
As that work in progress continues, there is another worry. Paul Pogba has provided more assists, created more chances and completed more dribbles than any other United player this term but concerns over how effective he can be in a midfield two have grown considerably over the last two weeks.
Against Tottenham Hotspur, he and Nemanja Matic were hopelessly overrun with the France international wilting again at St James' Park last Sunday [11 January]. Mourinho is close to having all the pieces he needs at his disposal, but is still to assemble a cohesive unit that brings the best out of each of his talented players.
Bringing the best out of the club's record signing could require some further tinkering in the middle of the park. IBTimes UK considers the possible solutions for Mourinho over the coming weeks.
A return to 3-5-2?
A crucial week in late November/early December saw United provide perhaps their most scintillating performances away from home this season. With Pogba back from a hamstring injury that ruled him out for 12 games, United went to Watford and Arsenal in the space of five days, winning both matches at a relative canter while scoring seven goals in the process.
In both contests, Mourinho opted for a 3-5-2 formation, with Nemanja Matic holding from deep with Jesse Lingard and Pogba pushed further ahead. The Serbian wasn't left to do it all on his own, either. With three centre-halves on the pitch, one of them was able to step up and snuff out attacks without leaving his teammates exposed - a role Victor Lindelof picked up that evening.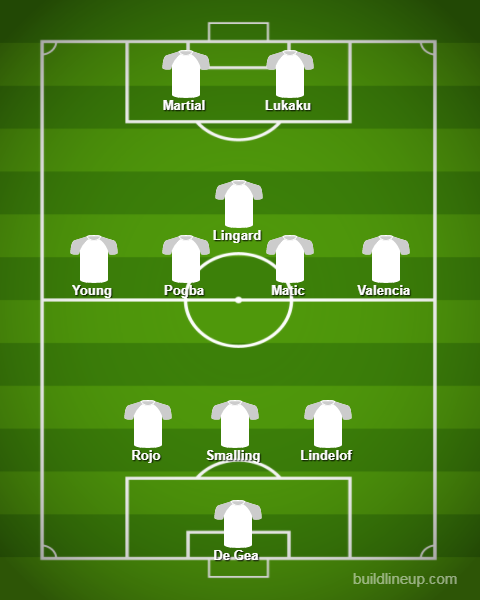 United were devastating on the counter as a result of that set-up, with all three of their goals at the Emirates coming during transitional phases. Pogba played an instrumental role in getting the ball up the pitch at pace to facilitate that. While Ashley Young and Lingard had gathered most of the plaudits a few days earlier at Watford after their stunning goals, Pogba's role was just as significant against a Hornets side then thriving under Marco Silva.
Pogba's game against Arsenal ended on a sour note when he was shown a straight red card for treading on Hector Bellerin. Mourinho abandoned the 3-5-2 for United's next league match – a home defeat to Manchester City – and we haven't seen it since.
The temptation for Mourinho to utilise that formation again is surely there, but it would come at a cost, with room left for only two of Lukaku, Sanchez, Martial and Marcus Rashford.
4-3-3?
Pogba's injury and December suspension has ensured Mourinho hasn't always had all of his options available to him. But there is conclusive proof a midfield two of Pogba and Matic is the manager's preferred partnership in the 4-2-3-1 formation we have seen so much since his arrival in Manchester.
Of United's 27 league games, Pogba and Matic have both been available for 17 of those. In 12 of those matches, they started at the heart of the midfield as a pair. Other occasions include that two-match 3-5-2 experiment against Watford and Arsenal. In two others, Ander Herrera joined them in a midfield three against Stoke City in September and Everton in January. And just once was Pogba not included despite being fit and available, with Scott McTominay stepping in against Huddersfield Town earlier this month.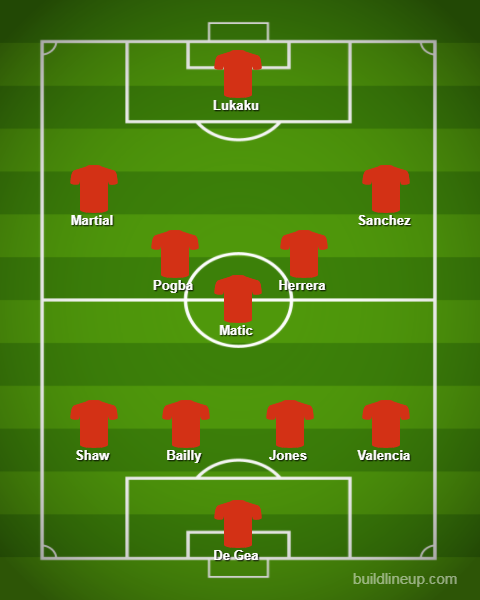 The Matic-Pogba axis is clearly Mourinho's preferred option but two defeats in their last three against Tottenham and Newcastle could prompt a tactical rethink. Michael Carrick's availability offers one potential solution, while Herrera continues to wait in the wings.
The 4-3-3 is not without its problems. United were timid despite the presence of three midfielders against Stoke at the start of the season. The system also couldn't prevent a wretched performance away to Basel in the Champions League. And once again, it would also call for a reshuffle up front.
It's been a clear problem this season; United struggle when they line up with a two-man midfield against top level opposition. But if those struggles are now creeping in against sides lower down the division like we saw at Newcastle on Sunday [11 February], sacrifices will need to be made.