Despite what seem to be ever-rising house prices in the UK, 2016 actually saw the highest figures of first-time home buyers since 2007 (Chart 1). The average house price paid by first-time buyers rose for the first time beyond £200,000 ($245,760, €230,780), to £205,170.
The bad news is that if you live in London and aim to buy your first home, you are likely to have to pay out more than £400,000 to do so.
For the UK as a whole, first-time buyers put down on average 16% of the purchase price as a deposit, funding the remaining 84% with a mortgage. In London, deposits were far higher, at 25% of the purchase price.
Outside London and the south of England, the average first-time buyer deposit was between £17,000 and £24,000, with Northern Ireland and Wales being the more affordable places.
But as we look at the south of England, the average deposit creeps up to £34,000 in the South West, above£47,000 in the South East and more than £100,000 in London.
More expensive houses mean longer mortgage terms
Of course, the main way to finance the purchase of houses these days is via a mortgage at ever-longer terms in order to make the monthly mortgage payments affordable.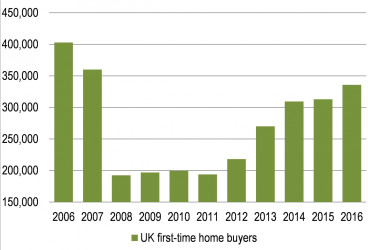 While in 2006, 64% of first-time buyers took out a mortgage of five to 25 years in length, 10 years later, someone buying their first home is now more likely to take out a mortgage of 25 years or longer, with 60% of first-time buyers opting for these longer-term mortgages in 2016 (Chart 2).
Good news for housebuilders?
With UK house prices 6.5% higher in December 2016 than a year earlier, the strong showing of first-time buyers is good news for UK housebuilders.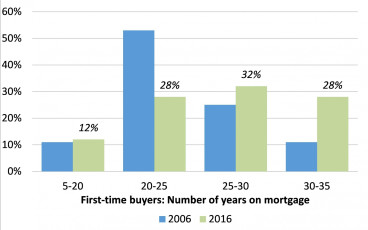 Firstly, the supply of houses for sale remains very low, according to the Royal Institute of Chartered Surveyors.
Secondly, the recent trading update from leading housebuilder Persimmon revealed 2016 revenues of 8% higher than the previous year, with higher volumes of houses sold and the average selling price up by 4% from 2015.
Most importantly, the value of Persimmon's forward sales as of the end of 2016 stood at £1.23bn – 12% higher than at end-2015.
As a result of this buoyant housing momentum, housebuilders Persimmon (UK code: PSN), Crest Nicholson (CRST) and Taylor Wimpey (TW) all continue to see rising share prices (Chart 3).
For fans of dividend income, remember that these housebuilding shares are all high yielders, with annual dividend yields of between 5.5% (for Persimmon) and 8% (for Taylor Wimpey) – all far higher than the yield on the FTSE 100 index.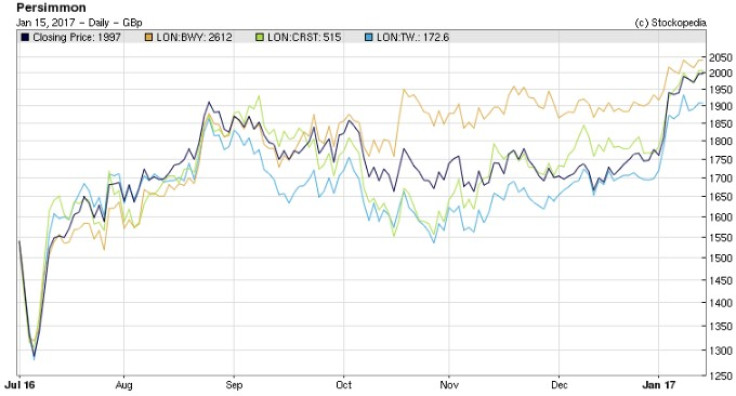 Also good news for furniture retailers?
This stronger trend for first-time buyers has also been relatively good news for furniture retailers such as DFS Furniture (code: DFS) and SCS (SCS), purveyors of sofas to the UK public. Since November 2016, share prices have been on a steady rise, but these remain cheap shares in terms of a low PE ratio and high dividend yield.
Floor covering specialist Victoria (VCP) has actually done the best of the three shares in Chart 4, benefiting from steady growth in sales of carpets, vinyl and hardwood flooring and sharply improving profitability.
So it would seem that in the case of these house builders and furniture retailers, Brexit has had little immediate impact on business; while the shares remain relatively cheap and offer a high potential income, there is still time to benefit from buoyant first-time home buyers.