How is Iran Involved In The Israel-Gaza War?
According to a US State Department report, Hamas is one of the richest organisations in the world, generating more than $500 in funding from Iran, taxes and Islamist charities.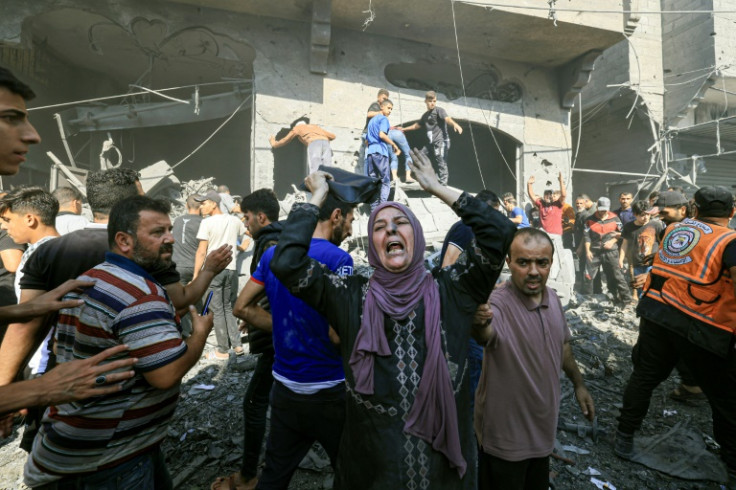 On Sunday 15 October, a senior Israeli official accused Iran of attempting to open a second war front by deploying weapons to Hamas through or in Syria.
Replying to a social media post that accused the Iranian regime of trying to move strategic weapons to or via Syria to open a northern front line, Joshua Zarka, the Head of Strategic Affairs for Israel's Foreign Ministry, wrote on X: "They are."
Since Israel formally declared war on Gaza, which has led to around 500,000 internally displaced people in Israel, nearly a million people displaced in Gaza, more than 1,500 Israelis killed and at least 2,800 Palestinians killed, the Iranian authorities have not been silent about their backing of Hamas.
A US State Department report from 2020, shows that Iran provides more than $100 million to Palestinian groups that are considered terrorist organisations, moving the money through shell companies, shipping transactions and precious metals.
Amongst the groups financed by Iran, is Hamas, the Palestinian Islamic Jihad and the Popular Front for the Liberation of Palestine-General Command (PELP-GC).
The US Treasury also revealed that, before the firms were sanctioned in 2022, Hamas had been receiving around $500 million in investments from a long line of secret networks around the world, including Turkey and Saudi Arabia.
An investigation into the funding of Hamas also found that the organisation collects between $12 to $15 million from taxes it imposes on goods coming from Egypt – including cigarettes, fuel and some construction materials.
Reports also show that Hamas imposed new taxes on products imported from the West Bank in 2022, which had a detrimental effect on those already living in poverty in Gaza.
In 2022, according to the Palestinian Central Bureau of Statistics, more than 65 per cent of the population in Gaza were living in poverty and facing food insecurity.
It is also known that Hamas collect donations from Islamic charities and holds fundraisers all over the globe, putting the majority of its finances towards its military and social missions.
In multiple statements, Hamas has publicly acknowledged that it is receiving support from Iran.
Officials have also recognised that Iran has provided Hamas with military training, weapons, funding, weapons, and technical help with manufacturing rockets and drones with advanced systems.
A former intelligence official, who requested to remain anonymous, told reporters that officials in Tehran, Iran's capital, have boasted publicly about the huge amounts of military aid that Iran has provided Hamas in recent years.
One analyst spoke to reporters about the scale of Hamas' unprecedented assault on Israel this month, noting that although Hamas has proven to be a powerful militia, the attack on Israelis could have only been conducted with a considerable amount of support.
Marc Polymeropoulos, a former CIA senior operations officer who served in counterterrorism roles in the Middle East, explained: "The amount of training, logistics, communication, personnel, and weapons required provides a massive footprint."
"This suggests both Iranian involvement, given the complexity of the attack, and highlights the colossal intelligence failure," he added.
The White House's deputy national security adviser, Jonathan Finer, also recognised Iran's affiliation with Hamas, a Sunni Islamist political and military organisation that is considered a terrorist organisation by dozens of countries.
In an interview with CBS News, he declared: "What I can say without a doubt is that Iran is broadly complicit in these attacks. Iran has been Hamas's primary backer for decades. They have provided them weapons. They have provided them training. They have provided them financial support. And so, in terms of broad complicity, we are very clear about a role for Iran."
Despite praising the Hamas militants for carrying out the on-the-ground massacre of Israeli citizens, the Iranian authorities denied having any direct involvement.
A statement, released by Tehran's mission to the UN on Sunday 8 October, declared: "We are not involved in Palestine's response, as it is taken solely by Palestine itself."
The US has since warned that if Iran directly enters the Israel-Gaza war, they will be met with direct American military action.
© Copyright IBTimes 2023. All rights reserved.