As the Dutch national team reached its nadir on Tuesday 13 October, one moment in particular captured how far they have fallen. Sixteen months on from the iconic diving header that opened the floodgates against defending champions Spain in the 2014 World Cup, Robin van Persie found the back of the net with a similarly emphatic finish. Wrong-footing the keeper, the striker followed the trajectory of a cross perfectly before firmly planting the ball into the back of the net. Unfortunately, it was past his own goalie.
Netherlands' European Championship qualifying campaign has lurched from one disastrous result to another, and Tuesday night confirmed the inevitable. Despite pulling two goals back in the final 20 minutes, a 3-2 home defeat to Czech Republic – their fifth loss of a rotten campaign – ensured they will be watching next summer's competition from home. Such was the extent of their malaise that even a win at the Amsterdam ArenA would not have been enough, thanks to Turkey's 1-0 victory over Iceland winning Fatih Terim's side a place in the play-offs.
At the heart of the crisis is Van Persie, whose regression from being one of the world's finest strikers has been alarming. The Dutchman was the key factor in Manchester United's last Premier League title under Sir Alex Ferguson, hitting 31 goals, each delivered with the guile of someone at the very peak of his powers. While injuries dogged his second season at the club under David Moyes, it was the debut campaign under countryman Louis van Gaal where his fall became apparent.
Despite being initially tipped to captain United upon the arrival of the former Barcelona and Bayern Munich boss, Van Persie's role in the squad shrunk considerably. In an interview with the Sunday Times in July, the striker noted "the atmosphere had changed" between himself and the manager, adding that not for the first time in their relationship, Van Gaal had again changed his mind about him.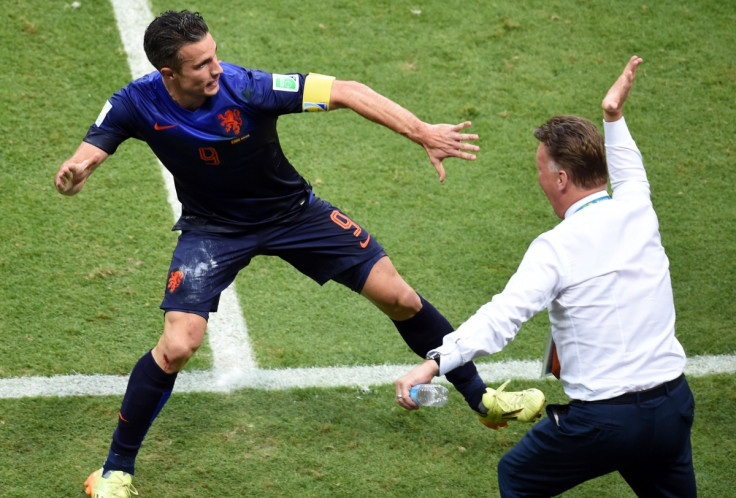 After recovering from an ankle injury, the strained relationship between the two became apparent when Van Persie was an unused substitute as his side chased the game against Chelsea in April. Two weeks later, United were again in desperate search of a goal as they searched for an equaliser at home to West Brom. Looking to their former talisman, Van Persie squandered a chance from the penalty spot and was subsequently stripped of the club's penalty-taking duties.
United's chronic lack of firepower at the end of last season – the club scored three goals in their final six games, all coming from midfielders – suggested the writing was on the wall for Van Persie at Old Trafford.
A total clear out of the club's striking options – bar Wayne Rooney – ensued and the Dutchman, who previously said he would like to continue playing into his 40s, joined winger Nani in moving to Fenerbahce. His departure from Old Trafford divided opinion among supporters, but he now had the perfect opportunity to prove his manager wrong.
But while Nani has prospered within his new surroundings, Van Persie's woes have persisted and signs of his unhappiness have been fairly obvious. A footballer can't do anything these days without someone capturing a Vine that goes onto be retweeted 1000s of times and, unfortunately for van Persie, his worst moments have been caught over and over again. Too often, the Dutchman has been videoed watching on disinterested from the bench and looking like he would rather be anywhere else in the world, fuelled by his inability to hold on to a first team role.
While the joyous scenes he was greeted to upon his arrival in Istanbul the city suggested he was their new messiah, he is just another player to head coach Vito Pereira. Of the club's seven league games so far this season, the former Arsenal skipper has completed a full 90 minutes just once, coming off the bench with half an hour or less to play in five of those.
To his credit, he has contributed three goals and an assist in that time, but has been unable to displace uncapped Brazilian journeyman Fernandao at the focal point of Pereira's attack, with the manager openly admitting tensions between him and the Dutchman are high.
Perhaps bolstered by a sense of entitlement, it took Van Persie just six games to voice his concerns, telling television cameras he was not happy with his role on the bench.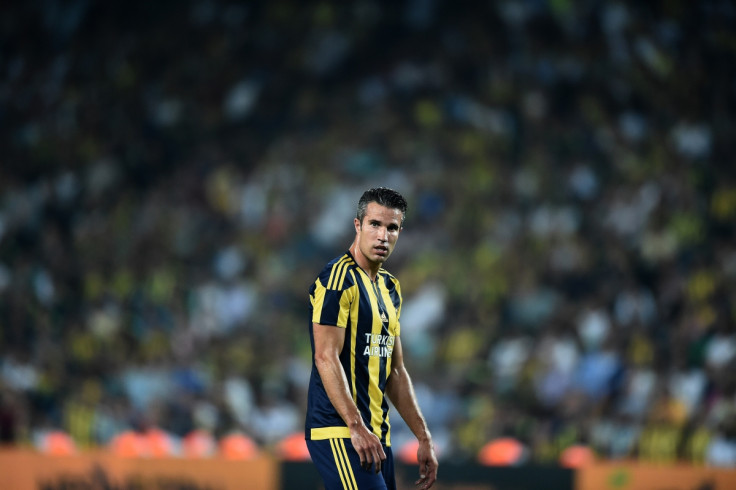 That listless form hasn't been confined to club performances, either. A hallmark of Netherlands' disastrous campaign has been the ineptitude of the country's record goalscorer, who won his 100<sup>th cap in October last year. Clashes with Klaas Jan Huntelaar, and more recently Memphis Depay, have not helped his cause either.
While the last two years have not been totally devoid of quality – the sublime hat-trick that saved Manchester United from Champions League humiliation against Olympiacos in February 2014 being perhaps the most notable example – Van Persie's downturn can be traced back to one notable incident.
Upon his arrival at Old Trafford, the striker admitted his decision to leave North London was down to the presence of Ferguson. In an interview with Dutch newspaper De Volkskrant in November 2014, he explained: "My decision to come to Manchester was partly because of the presence of Ferguson. Excuse me, Sir Alex. And he told me he would stay for another three years. I enjoyed his approach."
While the relationship with the Scot was relatively fresh compared to those of his teammates, Van Persie's form since the manager's retirement suggests he was impacted more than anyone else. His fractured relationships with David Moyes and van Gaal contributed to a decline that looked so improbable just 30 months ago.
But as his form at Fenerbahce and for his country may suggest, the typically ruthless Van Gaal would have appear to have called it right in cutting ties. While the Netherlands can now begin to contemplate a rebuild, it is difficult to envisage to a similar recovery for the striker.