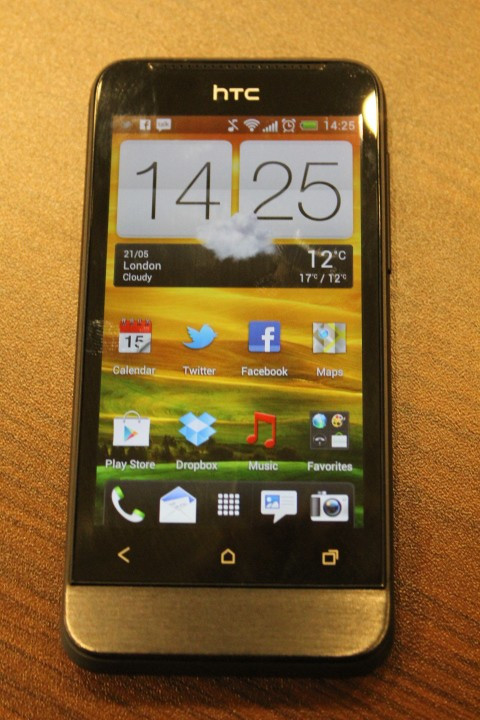 Key Features:
Android 4.0 (Ice Cream Sandwich)
3.7in touchscreen
1GHz single-core processor
512MB of RAM
5-megapixel camera
Price as reviewed: £225 SIM-free
Introduction:
Having already reviewed the HTC One X and One S, we've now spent some time with the smallest of the One series, the One V. Powered by a 1GHz single-core processor and featuring a 3.7in display, the One V isn't going to match its bigger brothers in terms of performance, but at less than half the price of the X - yet still featuring Android 4.0 (Ice Cream Sandwich) - the One V looks set to offer good performance at an affordable price.
HTC One V: Design and Feel
As with the One X and the One S, the One V boasts a high level of build quality and a premium feel, thanks to the Gorilla Glass front and metal back and sides. Below the screen there's a curious 'chin', last seen on the HTC Hero, that gives the V its own unique style. Some may not like it, but we think it adds character and makes the V stand out from the crowd.
Beneath that Gorilla Glass there's a 3.7in screen - slightly larger than the iPhone 4S, but with a lower resolution of 480 x 800. While not offering Retina levels of pixel density, at 252ppi the screen is both sharp and bright, and more than we could have asked from a £225 price tag.
As is standard with Ice Cream Sandwich smartphones, there are three capacitive touch buttons at the foot of the screen for Back, Home and Recent Apps.
On the right side there is a volume rocker and on the lower left there's a microUSB port for charging and syncing. Up top there is a 3.5mm headphone jack, power button and a notification light which flashes to alert you to a new text or email, or a low battery.
Around the back there is a 5-megapixel camera with autofocus and LED flash, and finally a segment of the rear case behind the 'chin' can be removed to reveal a speaker and slots for microSD (up to 32GB) and SIM card.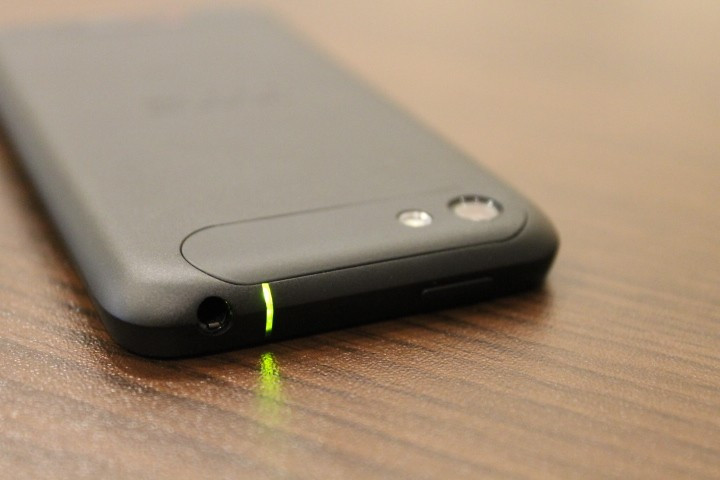 The HTC One V is almost identical in size to the iPhone 4S; it is slightly taller thanks to the larger screen, but still feels very compact and easy to hold in one hand.
Measuring in at 120 x 60 x 9mm, the One V feels very compact compared to other members of the One family. After two weeks of living with the phone we found it to be sturdy and well made, without showing a single sign of wear despite being carried in a pocket full of keys and coins.
HTC One V: Beats Audio
Beats has sneaked its audio technology into an ever-increasing range of tech, from headphones to laptops and now smartphones. The Dr Dre approved sound tech can be turned on or off from the notifications bar whenever the music app is in use. We found that music sounded a little richer and louder when Beats was engaged, but it's not something for audiophiles to get too excited about.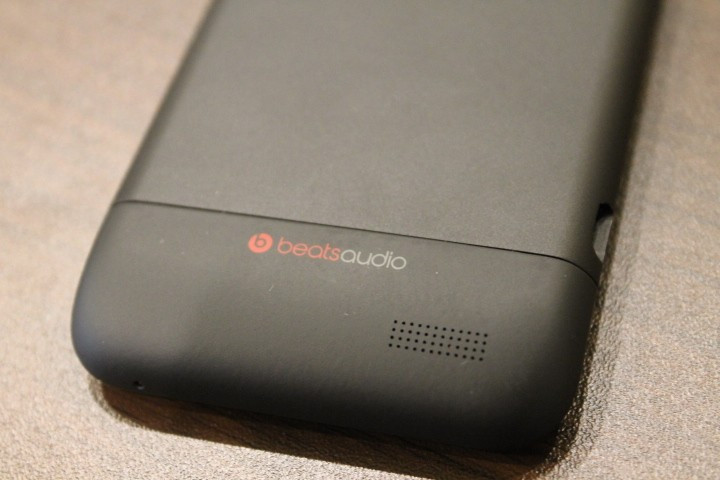 As for music playback in general, we found the HTC One V to provide good sound quality across a wide range of music and through headphones ranging from the cheap, bundled pair to our Bowers & Wilkins P3 cans.
HTC One V: Camera
The One V has a rear-facing 5-megapixel camera with autofocus and LED flash, but no front-facing snapper for self-portraits and video calling, which is a shame, but it's not a feature that is a deal breaker for us.
The camera offers a wide range of filters and effects, including depth of field, which adds an adjustable tilt-shift effect to photos so you can blur any part of an image before taking it. There's also distortion, vignette, a range of aging Instagram-style effects, as well as the usual selection of greyscale, sepia and negative.
On top of this, there's the usual range of settings, allowing you to adjust the white balance, ISO, contrast, saturation, image resolution and white balance.
Finally, there's face detection and smile recognition, which will stop the camera from shooting until everyone in frame is smiling.
There's clearly a wide range of options and settings available here and, as you can see at the foot of this page, the camera takes decent photos for the price. One criticism is that there is no obvious indication that a photo has been taken if the flash is turned off. We'd like to have seen at least an on-screen flash or an animated shutter closing and reopening to confirm that our tap of the screen had taken a photo.
HTC One V: Connectivity
The One V has the usual range of connections we've come to expect from the current generation of smartphones; these include Wi-Fi in b, g and n flavours, Bluetooth 4.0 with A2DP and the ability to broadcast its 3G connection as a Wi-Fi hotspot. Finally, there's GPS and a digital compass for use with maps and applications requiring locational information, such as Facebook.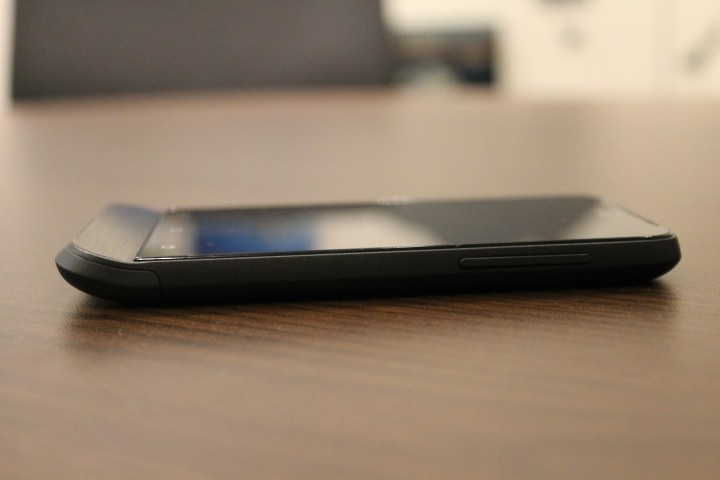 HTC One V: Performance
With its 1GHz single core processor, the One V's processor lags behind the quad-core powerhouses found in more expensive Android smartphones, but Ice Cream Sandwich is still welcome here and works effeciently.
Navigating around the One V is good enough, but there is a small delay in applications opening when tapped - it's only a second, but enough to be noticeable and a small reminder that this is a mid-range smartphone.
The One V is let down a little by its internet browsing ability, which often felt sluggish compared to the rest of the phone. We've always liked how Android adjusts paragraph width of text when you zoom in and out, but the V struggled to keep pace with our zooming, at least until the page fully loaded, which became frustrating.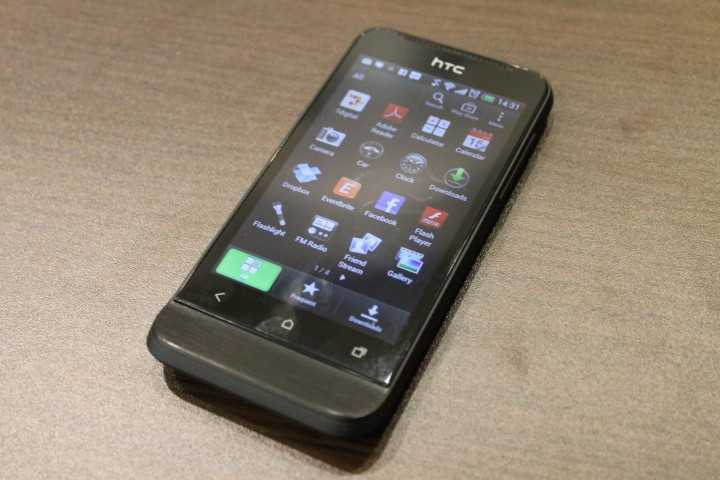 Page loading times also felt slow and pages seemed to take a lengthy time to fully load, during which time zooming and changes in paragraph width were slow to react.
We found the One V to handle app multitasking competently and not once during our two weeks with the phone did an app crash or become unresponsive. This stability was a feature shared by every aspect of the phone - switching between apps is smooth and that one second pause we mentioned earlier is about as bad as it gets, but after an app has been opened once it will open more quickly the next time.
Due to the V's small processor, Sense 4.0 has been toned down and features less of the 3D graphics from the One S and One X - such as the Recent Apps list, which appears as a flat, 2D list on the V rather than a three dimensional stack of thumbnails.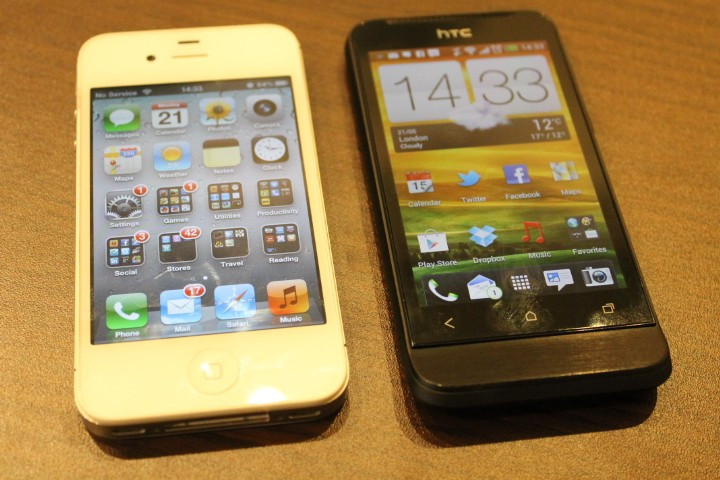 Although the processor and screen are smaller than other smartphones, this does mean that the One V returns excellent battery life, regularly lasting two full days during our review period. This included a mix of calls, texts and data over both Wi-Fi and 3G.
Internal storage is lacking at just 4GB, but there is a microSD card slot hidden behind the removable rear panel, so that storage can be increased by up to 32GB. There's no SD card in the box, but HTC's tie-in with Dropbox does go some way towards compensating for this. The online storage company offers buyers of the HTC One V 25GB of free cloud storage and the phone can also be set to upload photos and video directly to Dropbox as they are shot.
The screen is large enough to type confidently almost right away and Ice Cream Sandwich did a good job of correcting our wayward fingers, although there are a number of Swype applications in the Play store if that's what you prefer.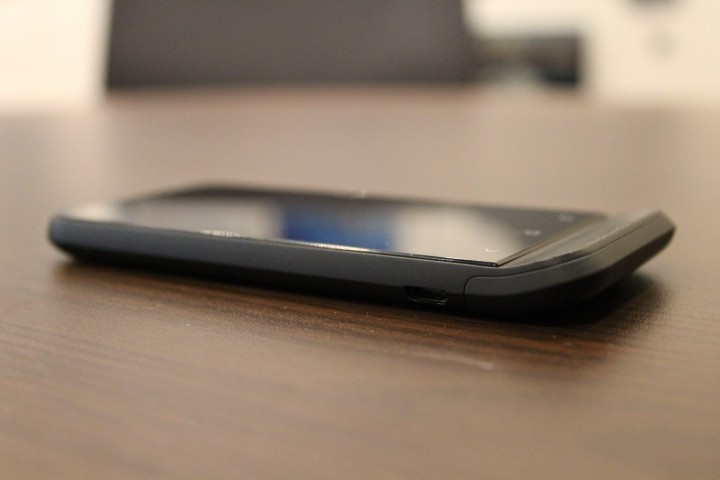 HTC One V: Verdict
At £225 SIM-free, the HTC One V represents good value for money if you are looking for a mid-range smartphone with the latest Android 4.0 operating system. We found the screen to be excellent and, while not quite boasting Retina-rivalling density, we couldn't fault it for a phone of this price.
We also liked the design of the One V and, while the 'chin' might not be for everyone, we were happy to see HTC offer a styling quirk that separates the V from its rivals. Sturdy build quality and a premium feel help to further demonstrate that the phone is more than just a cheap-and-cheerful alternative for something better.
Having just 4GB of storage is a letdown - especially for a phone with Beats Audio, which will of course appeal to music fans wishing to carry their entire library on the phone. At least the Dropbox promotion offering 25GB of free storage softens the blow of forking out for a large capacity SD card.
Scores:
Overall:8/10
Screen: 8/10
Camera: 7/10
Battery: 8/10
Performance: 7/10
Price: 8/10
The Good:
Very good battery life
Impressive build quality
Clear, bright screen
Runs Android 4.0
The Bad:
Browsing can be slow
Slight delay when opening apps
No SD card in the box
Beats Audio does little to audio quality
HTC One V Camera Samples: