The International Business Times UK got the chance to try out Chinese tech giant Huawei's Ascend D quad smartphone, below are our opening impressions.
Tech Spec
Unveiled triumphantly at Huawei's press event, the Ascend D quad packs what the company claims is the fastest processor on the market. Specifically the unit is powered Huawei's own K3V2 quad-core processor - which clocks in at speeds of 1.2 and 1.5 GHz - and boasts 1GB of RAM.
It has to be said, during our hands-on with the device we were amazed at the difference quad-core makes. We tried every power heavy task we could think of and the D quad handled them all with ease - being blunt, the return to using our own regular single-core devices felt like stepping back into the stone ages.
Past its processing prowess, the D quad packs a high definition 4.5-inch display with a 32-bit true colour graphic processor and 330ppi pixel density - this means on paper the D quad's pixel density rivals that of a finely printed magazine and easily matches the Retina display used in Apple's iPhone 4S.
Though we were using the device in a well lit room tailor made to show off the device, the display was crisp - later on we'd like to see how it compares head to head with Samsung's Galaxy Nexus.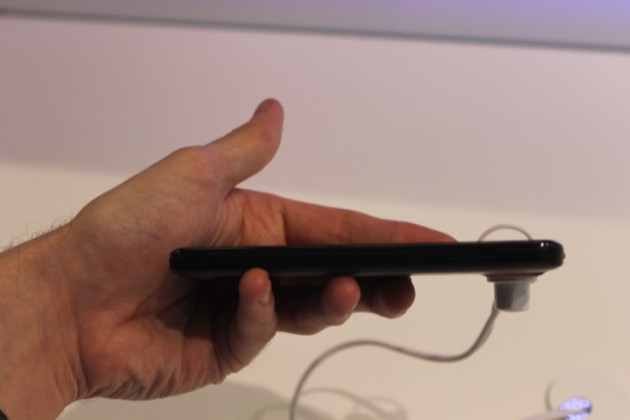 Backing this up the unit has a reasonable - though not astounding - 1,800mAh battery. Though Huawei has promised that the unit will have a two-day battery life with "normal use", we have our doubts, with the screens size and brightness looking set to be a massive power drain.
On the back the D quad packs a decent 8 mega-pixel camera, that's backed up by a reasonable 1.3 front facing snapper. During our hands-on we tested the unit taking a number of snaps and videos across the MWC shop floor and were pretty impressed with the results. The images were sharp and crisp, not looking overly washed out. The video was likewise impressive - though we can't know for sure how good it looks until we plug the device into a TV and look at the footage blown-up.
Look and Feel
In terms of physical dimensions, the Ascend D quad is also pretty nice. Measuring in at a slim 8.9mm thick and 65mm across. In hand the unit feels comfortable and isn't too unwieldy, with the back plate's slightly rubberised feel ensuring it is easy to grip. That said it doesn't feel quite as expensive or sleek as certain other top-end devices - Motorola's Razr and Samsung's Galaxy Nexus for example.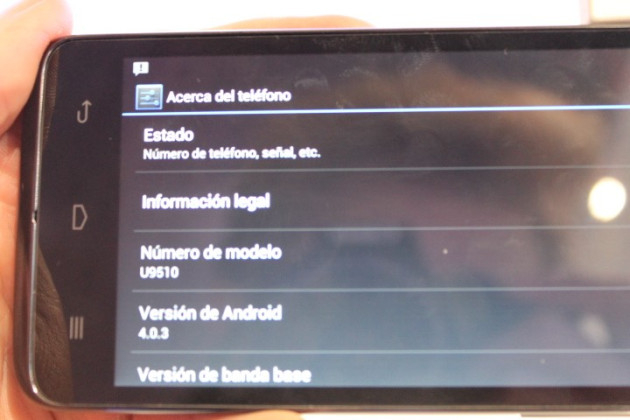 Operating System
The Huawei Ascend D quad will be released running Google's latest Android 4.0 operating system, better known as Ice Cream Sandwich. This is great news as the OS is a significant step up from its Gingerbread flavoured predecessor.
Hosting a more user friendly interface, face unlock and a host of other new features, Ice Cream Sandwich is, for lack of a better word, awesome. Additionally, gilding the lily, the device is also set to house Dolby Digital 5.1 sound enhancement and earSmart tech designed to maximise noise cancellation. Though we didn't get a chance to try the tech during our hands-on, the demo at Huawei's press event was impressive and we're looking forward to trying it out later in the year.
Release Date and Price
Huawei is currently being coy about the device's price and release date. All the company has confirmed is that the unit will be launched in numerous territories, including Europe, in either Q2 or Q3 of this year.