When it comes to Western mobile markets, and Europe in particular, Huawei has arguably made the biggest strides when it comes to changing the public perception of 'Chinese smartphones' through sheer perseverance.
This dogged approach extends to its Honor brand – a subsidiary company and unashamedly relentless, attention-grabbing offshoot that hopes to entice tech-hungry 'millennials' with flashy designs, buzzword-heavy marketing slogans and high-spec smartphones at cut-price value.
The Honor 8 is the manufacturer's latest flagship to carry the flag of the brand's Gen Y values. It rivals the Huawei P9 in terms of specification while also butting heads with the OnePlus 3 in terms of price – coming in at £369.99. IBTimes UK has spent just over 24 hours with the Honor 8, and has put together some early impressions of the eyecatching device intended for "the young and young at heart" ahead of our full review at a later date.
Honor 8: Design
In a sit-down chat with IBTimes UK, Honor president George Zhao talked at length about the importance of smartphone design when it comes to attracting its youthful target market of "digital natives". You can certainly see the result of this focus within a few seconds with the Honor 8.
First things first, yes, it looks a lot like a smartphone you might see from a certain Cupertino giant. In fact, if you hid the USB-C port and the Honor logo, the device bears a striking resemblance to the iPhone 7 mock-ups doing the rounds.
The key difference here is style, and even Apple might even want to take a few cues from the Honor 8's gorgeous rear panel. Built from 15 layers of glass, the glass creates a 2.5D effect that is absolutely stunning from every angle. It's hard to show how mesmerising the prismatic glimmer is in still images, but safe to say, fans of snazzy tech may find its shimmering streaks hard to resist.
The bezel is built from a metal alloy, and the handset's sloping edges fit nicely into your palm. Huawei's build quality has often been a step above its Chinese rivals, but even so, the Honor 8 is an impressive step forward when it comes to aesthetic appeal.
Honor 8: Display
In terms of on-paper specs, the Honor 8's screen is nothing to boast about and at 1080p, its 5.2in Full HD display is on par with equally priced smartphones out there. We'll be putting it through its paces ahead of a more detailed review, but our early impressions have been relatively positive. Colours pop in vibrant fashion, and at 423ppi it looks sharp enough at a glance.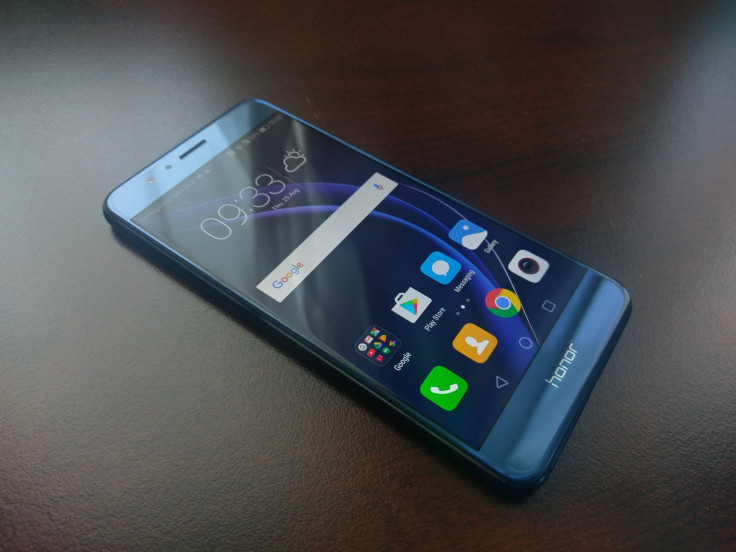 Of course, the lack of a 2K screen means no virtual-reality support – an odd choice considering its 'digital native' audience – and the real test will come down to how its viewing angles hold up under various conditions; young people love watching videos, you know.
Honor 8: Camera
The Huawei P9's marquee feature was its impressive dual-camera and the Honor 8 follows in its wake, despite ditching the Leica-branding. The main 12-megapixel camera sits flush on the phone's rear and consists of two Sony sensors with f2.2 apertures. The P9's Image Signal Processors also make a return, allowing RGB and monochrome to be processed separately before being joined together to create improved snaps.
Laser autofocus, HDR and slo-mo modes and a dual-LED flash complement the rear camera, while a range of jazzy filters and a self-explanatory Capture Smiles mode sit alongside a comprehensive Pro mode to please different potential buyers. Again, we'll be spending far more time testing the camera ahead of a full review, but the first few shots we took are crisp, clear and colourful.
Of course, the selfie-camera is arguably as important considering Honor's primary audience and the Honor 8's eight-megapixel camera is complete with a beauty shot-slider and a Perfect Selfie mode that asks the subject to pose at all angles for... some reason. We'll look into that one.
Honor 8: Fingerprint sensor
The Honor 8 has a fingerprint sensor. Surely there can't be anything else to say here, right?
In fact, while the circular rear sensor is ostensibly a quick means to unlock your phone without fiddly unlock codes or patterns, Honor has added something a little extra to the now commonplace security measure.
The sensor itself is a physical button and while in the camera viewfinder, the button can be used to take a photo, especially useful for keeping the phone steady while taking selfies. Also, holding the button down while on the home screen brings up Google Now.
The most interesting part is how it functions while the phone is locked, though. Thanks to a feature dubbed "Smart Key", apps can be assigned to different input methods, such as tapping or double-tapping. This launches the chosen app immediately, jumping the user straight into their favourite social media apps, games (hello, Pokemon Go!) or, well, anything you like. A neat feature, although it will be interesting to see how it holds up with multiple applications on the go.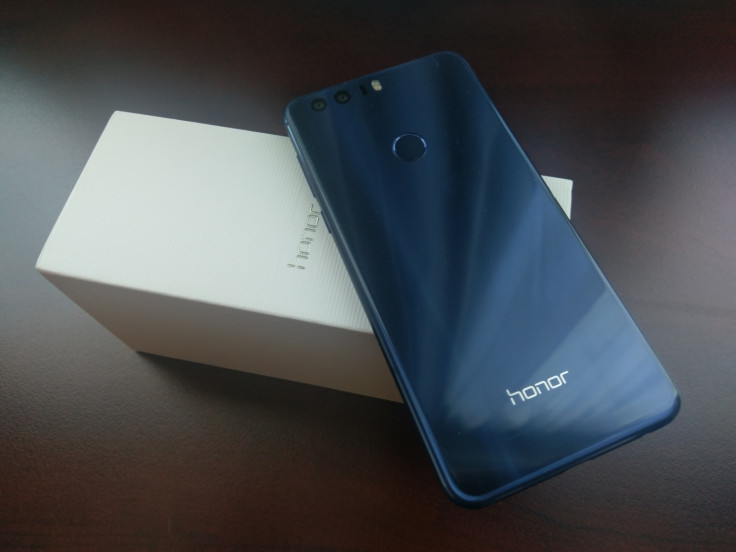 Honor 8: Processor, RAM, battery and anything else
While the most striking aspects of the Honor 8 are visible to the eye, early signs point to an impressive performance under the hood as well. The Kirin 950 chipset was favourably compared with the Snapdragon and Enoxys processors at the Honor 8 launch event, touting lower power consumption and benchmark tests that outdo even the Samsung Galaxy S7.
Lofty claims aside, the Honor 8 seems to zip around under the finger, with no noticeable signs of lag during early tests. With 4GB of RAM, however, we'd expect a solid level of performance regardless, while the 3000mAh battery combined with the 1080p display should ensure it doesn't cut out when you need to share a cheeky photo of a fancy plate of food.
The only immediate sour note with the Honor 8 is the Emotion 4.1 UI. While its somewhat childish, simplistic blend fits the Honor brand, we had issues with it on the P9 and the same holds true here – the Google Now launcher is only a tantalising few clicks away.
Honor 8: Hands-on first impressions
The Honor 8 immediately grabs your attention and its plethora of 'hip' features seem to do a good job of making you stick around. While it is slightly more expensive than its predecessor, the Honor 7, its opulent design and sleek feel should put your mind and wallet at ease in the short term.
Nevertheless, Huawei's loud-and-proud subsidiary has clearly stepped up its game for 2016, but with a wide range of impressive Android smartphones flooding the European market already, will its gleaming glass and mid-tier price be enough to stand out from the pack?