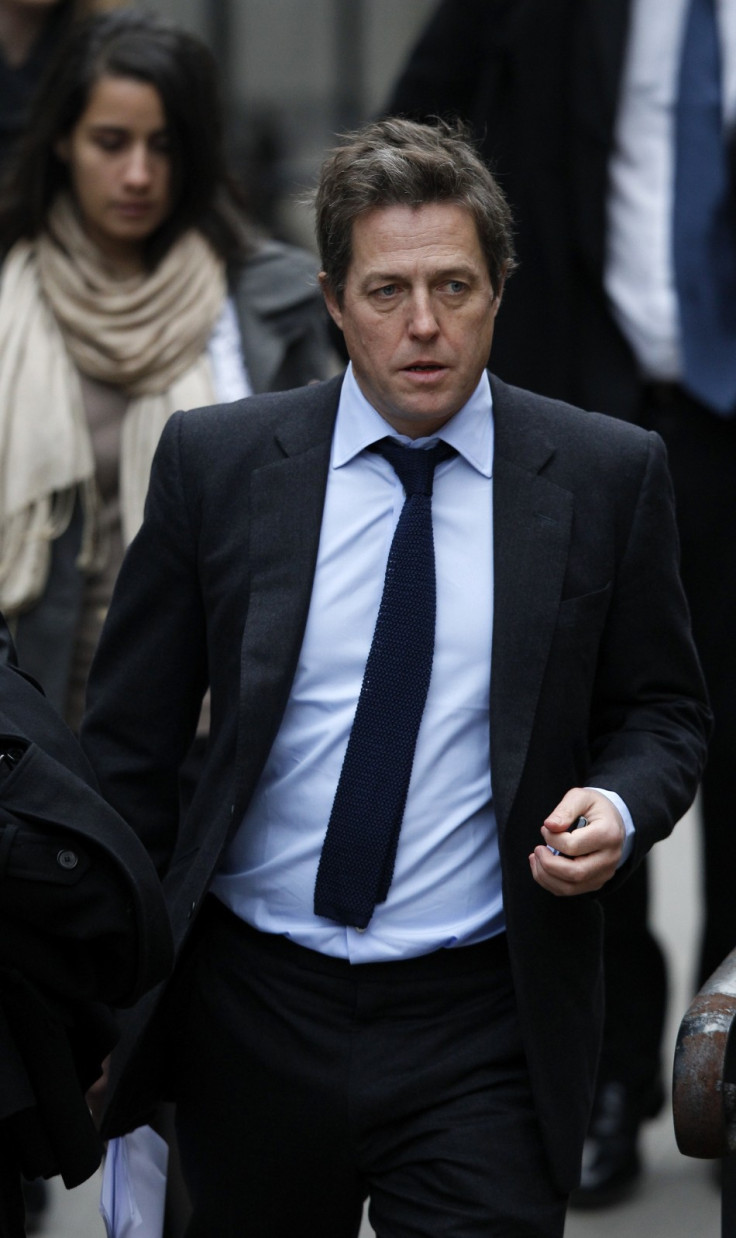 Hugh Grant has finished giving his colourful evidence to the Leveson Inquiry into press culture and ethics, having left a goldmine of quotable snippets behind.
Here's ten of the best lines from his appearance.
"Hugh John Mungo Grant." - To laughs in the room, Grant reads out his full name at the beginning of his evidence.
"I cannot for the life of me think of any conceivable source for this story in the Mail on Sunday other than the voicemails that were on my mobile telephone." - Grant recalls a story citing supposed flirtatious phone calls with a plummy-voiced production executive. He alleges phone hacking by the Mail on Sunday, which they deny.
"The police have told me they are increasingly recruited from the criminal classes who will stop at nothing because the bounty on these photos is very high." - Grant on the paparazzi.
"I feel like I did a revenge number on Paul McMullen and that's the issue closed with him. Two separate police inquiries have asked me for the tape and I've refused - it seems too harsh. I don't want to be sending Paul McMullen to prison." - When Grant's car broke down in Kent, the person who came to help happened to be an ex-tabloid hack - who took photos of the actor and sold them on. Grant got his own back by secretly recording McMullen talking about phone hacking.
"This was at the time when there were a lot of press outside, desperate to get in. It was in the middle of the summer and I know they were listening. They could actually hear some of the rows I was having at the time." - In the mid-1990s Grant's flat was broken into, though nothing was stolen, which he suspects may be foul play by journalists who were waiting outside his apartment.
"All I know is for a number of years if someone like me called police for a burglary, a mugging or something happened to me chances are that a photographer or reporter would turn up before a policeman." - The actor tells the court how celebrities could hold little trust in the police not to leak information.
"I was very reluctant to be present at the birth because of the danger of a leak from the hospital, bringing the press storm down on the mother of my child." - Grant says he felt like he had to protect his family from the press by staying away.
"You told me back stage that you were going to bat me straight balls. If these are straight balls I'd hate to see your googlies." - Grant loses his patience with Robert Jay QC, of the counsel to the inquiry, who was leading the questioning of the actor.
"I wasn't aware I was trading on my good name, I've never had a good name. I'm a man who was arrested with a prostitute and still made money." ­- Grant says that the idea that he sells himself as a good person to the public, in order to make money, is a myth.
"I don't want to see the end of popular print journalism. A free press is the cornerstone of democracy there is no question about that. I just think there is a section of our press that has been allowed to become toxic over the last 30 years." - Grant favours stronger regulation of the press, so it has a better focus on what he believes is in the public interest, rather than what interests the public.