Hull City have been relegated from the Premier League after succumbing to a 4-0 defeat against Crystal Palace in a season-defining match at Selhurst Park. Wilfried Zaha and Christian Benteke downed Marco Silva's men in the first half, dooming them to the Championship in the process, while Luka Milivojevic's 83rd-minute penalty and Patrick van Aanholt's close-range finish simply rubbed more salt in Hull's already gaping wounds.
The Humbersiders were abysmal in the first period, and while they did improve slightly in the second half they can have no complaints about their fate. They started the season with just 13 first team players and seemed destined to drop straight back down to the second tier of English football under Mike Phelan, who took the reins after Steve Bruce quit during pre-season.
Silva managed to transform Hull's fortunes initially - their form at the KC Stadium remarkably improved - but the former Estoril boss couldn't quite inspire his bunch of football misfits to stave off the forever present threat of relegation.
The Tigers, who have now either suffered relegation or enjoyed promotion in four of the last five seasons, join fellow north east outfits Sunderland and Middlesbrough in dropping down to the Championship.
Crystal Palace, who were duking it out in the relegation battle for much of the campaign, will ply their trade in England's top-flight next season, as will Swansea City, who saved themselves with two recent wins over Everton and Sunderland respectively.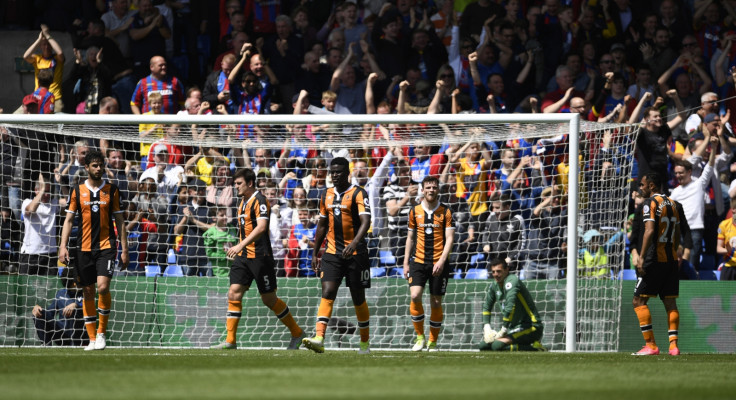 Despite the relegation, Silva has impressed since taking over from Phelan, who was relieved of his duties in January. The former Olympiakos boss, has been linked with a host of jobs, and refused to rule out a move from Humberside.
"I respect too much the club and these fans, who have been amazing since I came here. It's the moment to speak to the chairman and the board," Silva told The Independent. "The club needs to understand what they need to do differently in the future, and we'll do that next.
"Now is not the moment to talk about the future of the manager. It's about the future of the club. I will talk to the board and the chairman first, talking inside the walls of the club. Not for you. For me, it's easy what the club needs to do differently. We started to lose in pre-season when we were making our preparation.
"We tried to do many things in January, but it's not good to be signing six or seven players in January, and losing two, in the market. You should be doing that in June, in pre-season. You need to prepare better."