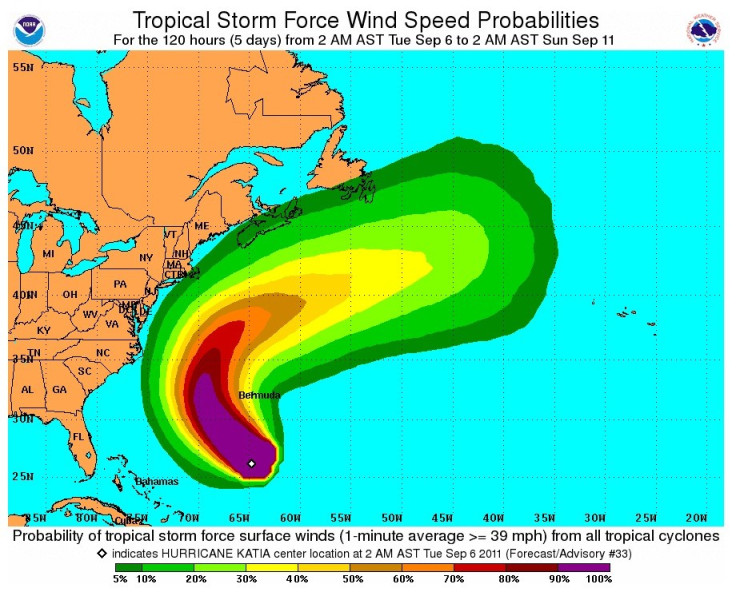 Hurricane Katia has claimed its first reported victim as it heads for Britain, a Northern Irishman visiting Maine.
Thomas Clarke, 33, was struck by a wave and swept out to sea Friday, The Mirror reported. His camera bag and shoes were retrieved, but his body is still missing. It is thought Clarke was visiting the U.S. for a friend's wedding.
As Hurricane Katia heads for the UK, winds of up to 80 mph are expected to cause disruption to northern England and Scotland and waves of up to 30 feet waves were rocking the west coast of Ireland.
Forecasters have warned against structural damage to buildings as strong winds are expected to be accompanied by heavy rain, leading the Environment Agency to issue several flood alerts for inland and coastal areas.
An alert against potential flooding has also been issued along the North Sea coast in Yorkshire between Bridlington and Barmston, while residents of the western coast of Anglesey have also been warned that the storm could trigger waves of up to two metres in certain areas.
The Met Office has issued severe weather warnings for Monday, with areas in Northern Ireland, central and southwest Scotland and northwest and northeast England expected to be the most affected.
"The remains of Hurricane Katia are expected to come across the UK on Monday ,bringing a spell of very windy weather," the warning reads.
"There remains some uncertainty about its track and intensity, though with increasing indications that Scotland and Northern Ireland are most likely to bear the brunt. The public should be aware of the risk of disruption to transport and of the possibility of damage to trees and structures."
Katia, the second major hurricane of the 2011 Atlantic hurricane season, was rated as a Category 4 storm on the Saffir-Simpson Scale at its peak.