Hurricane Katia: Gale-force wind Could Hit and Damage Scotland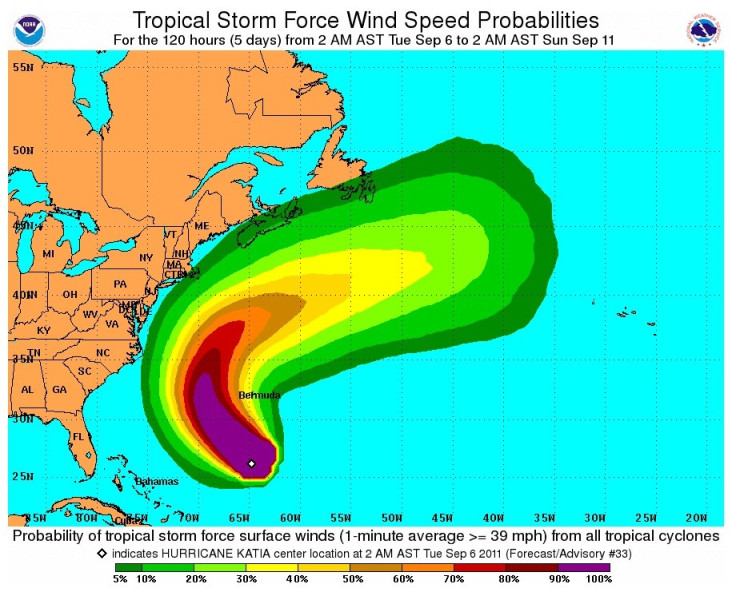 As forecasters have warned Hurricane Katia could bring gale-force winds to Scotland by Monday have been issued, they are keeping a close eye on the hurricane which is expected to be downgraded to a tropical storm by the time it hits the UK on Sunday night or early next week.
As the hurricane approaches, severe weather warning has now been issued for Scotland, Ireland, Northern England, West Wales, and Cornwall and Devon and the Met Office has warned of traffic disruption and structural damage as winds of up to 70 or 80 mph are set to hit the UK.
While the hurricane, which is now off the coast of Bermuda, is expected to result in stormy weather forecasters have also warned it is still too early to predict the exact effect the hurricane will have on the country's weather.
Forecaster Andy Ratcliffe told the Press Association: "By the time it gets across the Atlantic, it will be the remnants of Hurricane Katia.
"We're still a little uncertain on the exact track of its path, although it looks like the centre of depression will be in the vicinity of Scotland."
Katia is the second major hurricane of the 2011 Atlantic hurricane season and was rated as a category four hurricane on the Saffir-Simpson hurricane scale at its peak.
© Copyright IBTimes 2023. All rights reserved.