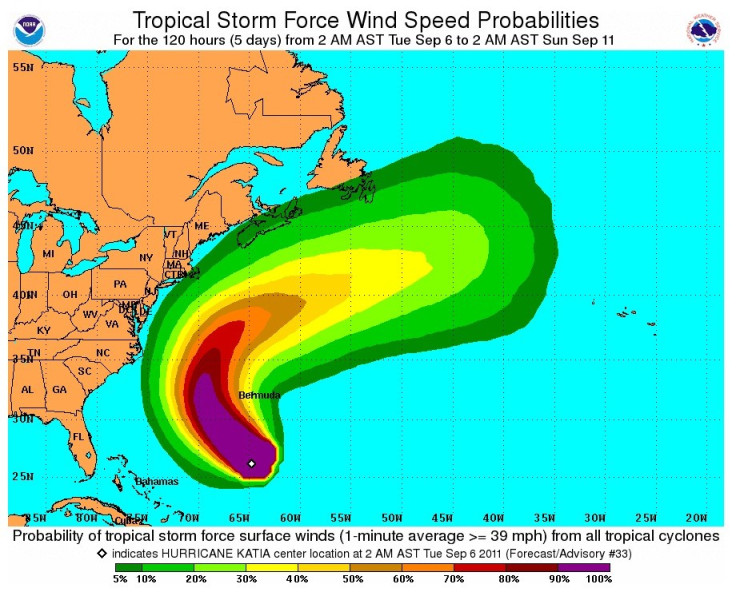 Winds of 70 miles an hour and sea swells of up to 15 metres look set to hit the UK and Ireland next week when the remnants of Hurricane Katia is expected to hit the countries' coast.
Meteorologists have warned that as Hurricane-force winds of up to 90mph are expected out to sea off the west coast, winds in some coastal parts, could reach up to 70mph if Katia continues on its current path through the Atlantic.
Expected to reach Ireland by Monday and Britain by Tuesday, the category two hurricanes is now off the coast of Bermuda.
"There is a moderate risk of stormy weather in the coastal districts of the north and west of Ireland, as well as western Scotland" the Belfast Telegraph quoted Peter O'Donnell from irishweatheronline.com as saying.
Forecasters have also warned against monster waves to strike from late on Monday September 12 in the night while also predicting torrential rain spread across most of the country with areas such as Northern Isles and north and north-west Scotland set to be the most affected.
A spokesman for the Met Office said weather experts were 'keeping a close eye' on Katia's progress.
He added: 'It's too early to say where it's going to go but we're constantly monitoring the situation and advising people to stay up to date with the forecasts.'
The last hurricane to hit the UK was Hurricane Charley which struck at the end of August 1986 bringing torrential rain in Ireland with 200mm of rain falling on Kippure in 24 hours, Wales, where it delivered 100mm in a day to Dyfed, and England which was affected by severe flooding in Cumbria and Gloucestershire.