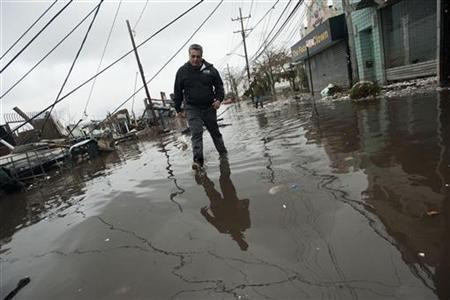 Insurance firms face a $20bn bill because of the devastation wreaked across the eastern coast of the US and the Caribbean by Hurricane Sandy, according to a report by credit rating agency Fitch.
This loss could grow further still - possibly by another $5bn - said Fitch, because several larger insurance companies have yet to report their loss estimates, while those who have made their best guess will have struggled to get a true assessment given the "complexity of assessing insurance losses from such a large and intense storm over a widespread region".
"This would put the total industry loss just below the high end of the range of the most recent insured losses estimated by third-party catastrophe modellers," said the Fitch report.
October's Hurricane Sandy, dubbed 'Frankenstorm' by one meteorologist because it merged with a seasonal storm on its way north, claimed 253 lives and left large swathes of New York City flooded, including sections of its famous subway rail system. Many homes and businesses were swept away in the deluge.
A $25bn loss to insurers would make it the second costliest storm ever to hit the US, falling behind Hurricane Katrina, which left a $46.6bn insurance bill.
Fitch said because of the nature of Hurricane Sandy, which swept through the banks of Wall Street, most of the losses to insurers come from commercial claims.
"In nearly all cases, Hurricane Sandy demonstrated the favourable spread of loss and limited concentration risk among individual insurance companies, resulting in manageable losses to insurers," said Fitch.
"However, despite robust modelling available for the Northeast US, there were several areas related to flooding risk exposure that the models did not fully capture and companies did not fully anticipate."
AIR Worldwide, one of the leading firms used by insurers to assess their risk exposure to disasters, puts its top estimate for Hurricane Sandy losses at $22bn.
Eqecat, a similar firm to AIR, puts the losses at $20bn.