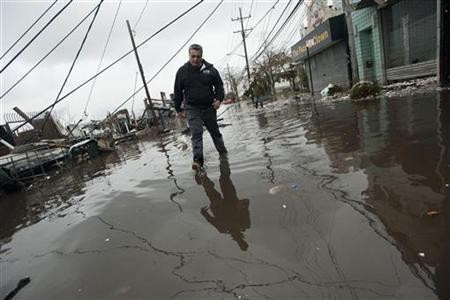 The world's insurers are set for a deluge of claims brought by the devastation of Hurricane Sandy with a payout bill that will inevitably run into billions of dollars and some industry experts predict it could rank as one of the most costly hurricanes to date, though others have told IBTimes UK it is too early to make a judgment.
Two leading insurance risk forecasters have already said that the aftermath costs of Sandy look likely to outpace those of 2011's Irene, which ranks at number 10 in the league of the US's most expensive hurricanes, possibly tripling the losses.
Irene, a storm in which 55 people lost their lives, cost insurers $5.9bn (£3.67bn) in claims.
AIR Worldwide, an insurance risk specialist, said insured losses from Sandy could total as much as $15bn. Eqecat put its top estimate at $10bn.
"Our thoughts are with all those who have been affected by Hurricane Sandy. It's too early to comment on any potential business impact," said a spokesman for Lloyds of London, the insurance market.
Likewise a spokeswoman for Swiss Re, the Zurich-based reinsurer, said "it is really too early to give estimates for the overall losses".
"It is going to take time for the insurance industry to estimate claims for this event, as we will have to wait for the end of the event before a loss estimate can be released," she said.
"It is not yet possible to estimate the potential losses from Hurricane Sandy. As always, days or even weeks may pass before a reliable estimate is feasible," said a spokesman for insurer Munich Re to IBTimes UK.
"However, it can already be said that the approach of a hurricane coupled with elevated tides caused by a full moon phase and combined with a storm system from the northwest constitutes a very rare event.
"On the other hand, it is important to note that Sandy ranked as a Category 1 hurricane, the lowest category out of five. This means that Sandy was a strong storm system covering a very large area, but with moderate wind speeds compared with many of the hurricanes that occur in the Gulf of Mexico.
"Altogether, therefore, we are looking at an event in which flooding plays an important role."
The US government has the National Flood Insurance Program (NFIP), which provides cover of up to $250,000 (£155,000) for residential buildings and $500,000 for commercial buildings.
However many commercial properties and a handful of residential ones are covered by insurance bought in the private market.
Lawyers on both sides may face tough battles over what damage was caused how, which will affect the type and value of a claim, as happened in the wake of 2005's Hurricane Katrina, the deadliest and most economically damaging to have ever hit the US.
Reuters reported that State Farm, the biggest home insurer in the US, had already received 6,000 claims from homeowners.
Hurricane Sandy has swept across the eastern coast of the Americas, up from the Caribbean as far as northeast USA.
Thousands of flights across the Atlantic and within the US were cancelled, while gale-force winds and flooding knocked out power to some areas.
In New York City dramatic images have emerged of cars swallowed by rapidly moving floodwater, and water gushing through the financial district at Wall Street.
The subway system has also been flooded.
Many buildings, both residential and commercial, have been destroyed or damaged by Sandy.
In the biggest tragedy, the death toll is 126 at the time of reporting.
---
Follow @shanecroucher