'I deserved more of an opportunity' says former Arsenal defender Gabriel Paulista
Gabriel left Arsenal and completed a £10m switch to Valencia in the summer transfer window.
Former Arsenal defender Gabriel Paulista has expressed his unhappiness after being regarded as a back-up player by Arsene Wenger during his time at the Emirates Stadium.
The 26-year-old made a switch to the north London club from Spanish side Villarreal in January 2015. He made 65 appearances for Wenger's side, which includes 37 starts in the Premier League during his time at the club.
Gabriel left Arsenal and completed a £10m switch to Valencia in the summer transfer window. The Brazil international, who won two FA Cups with the Gunners, claims he received undeserved criticism at different stages of the 2016/17 season and stressed that he "deserved more of an opportunity" at the Emirates.
"I deserved more of an opportunity. Sometimes I played because my team-mates were injured. I did play and sometimes even after playing well, I'd go home sad, given that I was only playing because my team-mate was injured. I don't think I deserved that," Gabriel told Sky Sports.
"I think I had the ability to play and to start games because I deserved to do so, or because I did well in training, but that didn't happen.
"Sometimes I'd play three or four games and if Arsenal lost, I'd be dropped and everyone on the outside would say, 'It's Gabriel's fault.'
"That wasn't good for me. People thought, 'When that guy plays, Arsenal always lose.' When [Hector] Bellerin got injured, I played at right-back and Arsenal started to lose.
"I think I played in four or five games en route to the FA Cup semi-final against Manchester City and I played brilliantly in that game. I played really well and I received plenty of praise. Then I think we faced Tottenham away and lost, I gave away a penalty in that game and lost my place in the team. I didn't play again.
"I played in the last Premier League game because everyone was injured, all the centre-backs were out...I was quite down about how it went because of these reasons and it didn't sit well with me."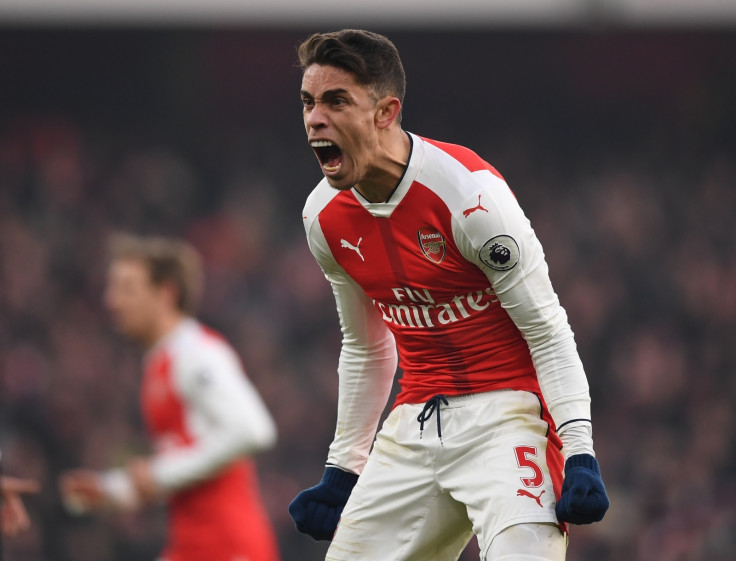 Gabriel has enjoyed a good start to his life on his return to Spain with Valencia. He has started in seven matches, while having one substitute appearance to his name in the league this season. Marcelino García Toral's side are second in the table with 30 points after 12 games, four points behind league leaders Barcelona.
Valencia host Barcelona in the Mestalla in the league clash on Sunday. Gabriel said confidence in the squad is high after a good start to the 2017/18 campaign.
"We had our doubts, but with each passing round of games, we think that we can go far. Things are going well. We don't want to say that we're going to fight for the title," the South American defender said.
"Ahead of games we often speak among ourselves and say, 'We can do it. We've got a great team. We have huge ability, we're young and we can improve every day.'
"I think we can be in the fight if we keep this up and play well. I think we can battle it out towards the top of the table."