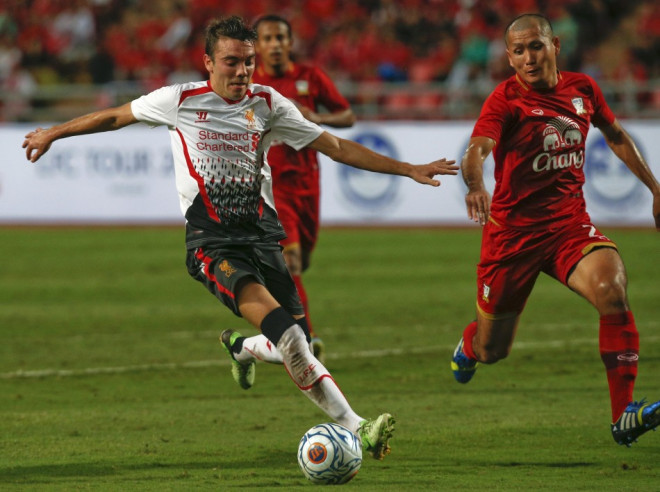 Liverpool striker Iago Aspas has told IBTimes UK that if they lose against Manchester City on Sunday Liverpool's Premier League challenge will be 50% over.
The Merseyside team host Manuel Pellegrini's side on Sunday (kick-off 1.37pm BST) with Liverpool currently top of the table, with 74 points from 33 matches. City are third, with 70 points from 31 games.
Asked by IBTimes UK whether a defeat would end Liverpool's Premier League title hopes, Aspas said: "No, not losing but eventually it would mean throwing away 50% of the title."
Would a win would be decisive in Liverpool's bid to win the Premier League? "No, because City have already two games in hand and we still have to play against Chelsea," the Spaniard said.
"It is not a real final because we are not a team that were made to win the title. But it is true that being where we are now it is a nice game, we really want to play and want to win," he said.
"Liverpool, like Atletico Madrid in Spain, are not a club built to win the league but a team for the long term, as we have many young players in the squad. But it's true that the end of the league is getting closer and it will all depend on the Anfield matches, especially against Manchester City and Chelsea."
The Spanish striker refused to rule Chelsea out of the title race but admitted that City were the bigger contenders.
"All three teams may have chances to win. If we draw with City and Chelsea win (Swansea) the table would tighten even more," he said.
"In my opinion the opponent is Manchester City. Because I think they have the best squad."
Who are Liverpool's biggest concerns against City? "Silva and Toure," Asapas said. "They are really good."
"I do not think Aguero will be completely fit. He is one of the best strikers in the world. If Manchester City have not exploded more this season it has probably been because of his absences."
Liverpool lost 2-1 at the Etihad Stadium earlier in the season, but Aspas believes that they deserved better.
"We scored the opener but when Sterling was set to make it 2-0 the referee blew for offside, even though he was 2 metres behind their defenders. Then Simon Mignolet made a mistake after a shot from Negredo and our job became more difficult as the space opened up, making City more dangerous."