iBooks 2: Is it Apple's Alternative to Heavy School Bags and Boring Classrooms?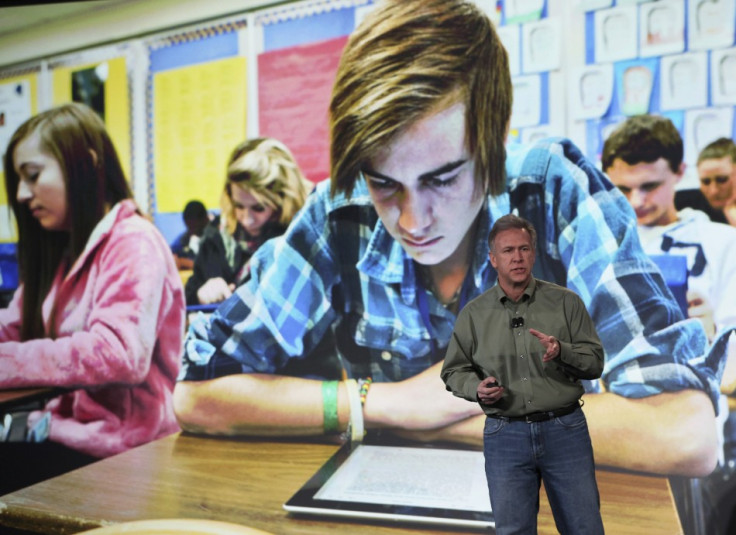 Apple has unveiled a new tablet technology aimed at making student's life much easier and more interesting with digital textbooks.
With its education-coated DNA, the California-based company on Thursday introduced its new iPad app, iBooks2, which is intended to revolutionise the education sector across the globe.
"Education is deep in Apple's DNA," said Philip Schiller, Apple's senior vice president of marketing during the launch of its iBooks2 at the Guggenheim Museum in New York.
"With iBooks 2 for iPad, students have a more dynamic, engaging and truly interactive way to read and learn," he added.
iBooks2, is currently aiming the school textbook market, for children from Kindergarten to 12th Standard. One cannot rule out the possibility of Apple coming out with digital college textbooks in the near future.
According to Apple, 1.5 million iPads are already being used by the educational institutions in the U.S. But the figure is not significant considering an estimated 55.5 million students studying in more than 130,000 schools across the United States.
The new iPad app allows students to explore the topics easily and effectively. It enables the users to highlight important sections, search, review lessons and study cards. Interactive photo galleries, videos, 3D models and diagrams are the other features of iBooks2.
The digital textbooks also give feedback to each lesson with questionnaires and will reduce the weight of school bags.
Apple is planning to partner with big names in the text book publishing sector like Houghton Mifflin Harcourt, McGraw-Hill and Pearson to produce digital high school textbooks. These companies together own about 90 percent of the textbook market.
The company would be pricing all the digital text books at or below $14.99 (£9.68), which is much lower than the current prizes of the print text books. The U.S. textbook market is currently estimated to be at $8 billion, out of that the electronic textbook market accounts for only 2.8 percent.
Apple also launched the new iBooks Author designed to help write and publish books that can be read on iPad. One can create reference books to interactive guides with pictures, videos and presentations with the help of the iBooks Author.
A previously written text in the word format can be imported to the iBook format to read on the iPads. Anyone can share his or her work through the iTunes U or sell it through the iBookstore.
iBooks 2 and iBooks Author will "democratise the publication and distribution of content," the AFP has quoted Forrester Research analyst Sarah Rotman Epps as saying.
"We'll see an avalanche of new companies and new content for the education market -- and many of the best innovations will come from smaller companies, not the biggest publishers," she added.
© Copyright IBTimes 2023. All rights reserved.