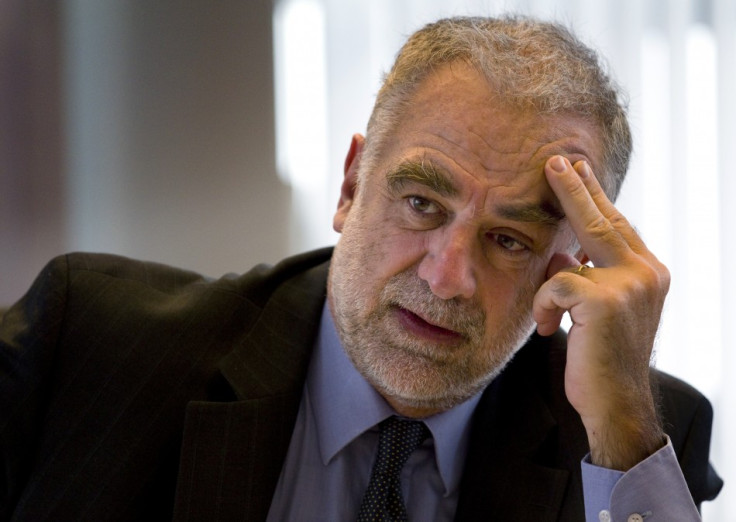 The International Criminal Court chief prosecutor has today announced he is seeking the arrest of Libyan leader Colonel Muammar Gaddafi and two others for crimes against humanity.
Luis Moreno-Ocampo, the ICC chief prosecutor, wants a three-judge panel to issue arrest warrants for Libyan leader Muammar Gaddafi, his second-eldest son Saif al-Islam, and his intelligence chief, Abdullah Senussi. In an official statement he insists on "the need to hold to account those responsible for attacks, including by forces under their control, on civilians" and finds the three men bore the greatest responsibility for "widespread and systematic attacks" on civilians. He further stated, during a press conference held today at The Hague that Gaddafi had "personally ordered attacks on unarmed civilians."
He explained that his second eldest son Saif Islam acted as a de facto prime minister while Mr Senussi, Gaddafi's brother-in-law, is " his right-hand man - the executioner, the head of military intelligence." Talking about the Libyan leader, Mr Moreno-Ocampo added that "His forces attacked Libyan civilians in their homes and in public spaces, shot demonstrators with live ammunition, used heavy weaponry against participants in funeral processions, and placed snipers to kill those leaving mosques after prayers." ICC judges must now decide whether or not to issue a warrant for their arrest. Should Col Gaddafi be named, it would only be the second time the ICC has sought a warrant for a sitting head of state since the only other one was Sudanese President Omar al-Bashir who has been indicted for crimes including genocide in Darfur.
Following the prosecutor's announcement, the Libyan government announced that it will simply ignore any decisions taken by the International Criminal Court. Libya, who with China, Iraq, Israel, Qatar, the United States and Yemen, was among the seven countries that voted against the Rome statute, and still does not recognise the court's jurisdiction. Libya is not an ICC member state and is therefore not obligated to arrest the court's suspects. Deputy Foreign Minister Khalid Kaim said the court was a "baby of the European Union designed for African politicians and leaders".
30 Missions in 11 different countries
The prosecutor's office conducted thirty missions in eleven countries leading to the examination of more than one thousand two hundred documents. These range from videos to photographs and also include more than fifty interviews, some of which were held with direct witnesses. It was revealed that in order to protect the witnesses no interviews took place in Libya.
On Sunday, the office of the prosecutor finalised a seventy-four pages document detailing the arguments put forward in order to seek the warrant arrest. According to the prosecutor, since the beginning of the violence mid-February, the Libyan conflict has claimed the life of thousands of life and led to the displacement of more than seven hundred and fifty thousand people, according to UN sources. Between 500 and 700 people are believed to have been killed in that month alone.
The need for a cease fire
While most western countries welcome the prosecutor's move, who acted in accordance with UN Security Council resolution 1970, many also fear it could also further complicate efforts to halt the conflict in Libya.
On Sunday, Libyan Prime Minister al-Baghdadi Ali al-Mahmoudi told the UN's special envoy, Abdul Ilah al-Khatib, that his country wanted "an immediate ceasefire to coincide with a halt to the Nato bombardment and the acceptance of international observers". However, overnight, Libyan state television reported that a Nato aircraft had bombed an oil terminal in the eastern port of Ras Lanuf while rebel fighters claimed to have taken full control of the western city of Misrata. With an end to the conflict difficult to envisage in the foreseeable future, Russia and South Africa have today voiced their concerns.
Russian Ambassador Vitaly Churkin criticised the Nato-led airstrikes and called for members of the coalition to adhere strictly to Security Council resolution 1973, which authorised "all necessary measures" to protect civilians. He also insisted that Moscow was "deeply alarmed" by the growing number of civilian casualties in Libya, while adding that "going beyond the mandate of 1973 in any way, and any disproportionate use of force, is unacceptable."
South African Deputy Ambassador Doctor Mashabane suggested Nato should not be immune from an ICC investigation. "It is our sincere hope in considering the evidence, the office of the prosecutor will consider any actions that may have been committed in the purported implementation of resolution 1973," he said.
Throughout the conflict part of Gaddafi's strategy was to emphasise the number on casualties deriving from NATO airstrikes, in the hope to drive a wedge between more committed and more ambivalent members of the coalition to change public opinion in the hope of delegitimising the original political support on which this intervention was built. With more and more countries voicing their fears and concerns over Nato's strategy, it seems that Gaddafi's tactic might not have been so useless.