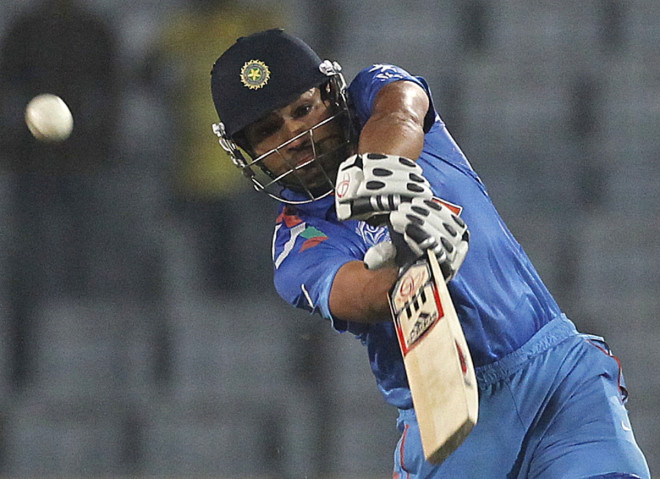 India sealed their place in the semi-finals of the ICC World Twenty20 with a comfortable eight wicket victory over Bangladesh.
The hosts were unable to contain Rohit Sharma and Virat Kohli who hit 113 between them before MS Dhoni (22) sealed the win with a sweeping six to ensure a third successive win with nine balls to spare at the Sher-e-Bangla National Stadium in Dhaka.
After India won the toss Anamul Haque (44) was Bangladesh's only consistent source of runs as Tamin (6) Shamsur (0) and Kumar (1) were dismissed in quick succession in an excellent innings with leg-spinner Amit Mishra (3-26) playing a starring role.
After taking to the crease India could afford to leave established batsmen Suresh Raina, Yuvraj Singh and Ravindra Jadeja in reserve as Kohli (57) and Sharma (56) assumed control and evaded the hosts' attack with ease.
Sharma's wild edge gifted the hosts an opportunity to quell India's momentum when he skied his chance into the direction of two opposition fielders. However a lack of communication saw the pair get their wires crossed and collide into each other, missing the chance to dismiss Sharma who collected one of many fours.
Sharma was eventually dismissed after he directed one straight into the grateful arms of Nasir Hossain at the backward point, but with just 26 needed for the win, India were unperturbed, even more so when their skipper stepped in.
The Men in Blue seemed happy to inch their way over the finishing line through a succession of singles, but Dhoni ended the afternoon in emphatic fashion by thumping a tremendous six off Ziaur Rahman's bowl for his 22nd from 12 and ensure his side are the first to qualify for the semis.
Earlier on, Australia's hopes of remaining in the competition were left hanging by a thread as Darren Sammy hit consecutive sixes to lead West Indies to victory with two balls to spare.