ICC World Cup 2015: India seal crushing victory over UAE in Group B clash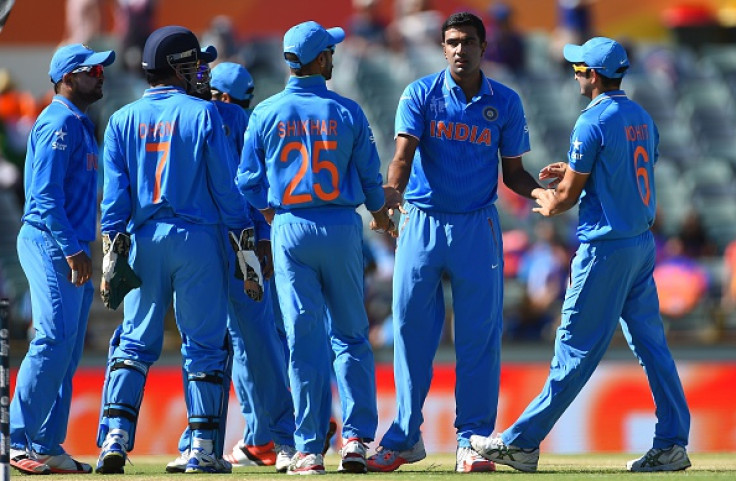 India have registered a crushing victory over the United Arab Emirates (UAE) in the Western Australia Cricket Association Ground, Perth on Sunday.
Mohammad Tauqir won the toss and UAE decided to bat first. The decision did not go in their favour as the Middle-Eastern nation struggled from the beginning losing wickets at regular intervals.
The defending champions sealed a nine-wicket victory over UAE which has seen them retain the top spot in Group B. India are cruising in this edition of the World Cup with three comfortable victories from their first three matches.
UAE had only three players who could manage double figures. The list included Shaiman Anwar (35), Khurram Khan (14) and the last batsman Manjula Guruge (10), with the latter remaining unbeaten till the end.
R Ashwin was the star player with the ball for India with a career-best performance of four wickets for 25 runs.
UAE were bowled out for 102 with 13 extras helping them reach the three-figure mark. In reply, India lost only one wicket - that of Shikhar Dhawan's (14) - and Rohit Sharma (57) and Virat Kohli (33) remained unbeaten till the end.
Ashwin was named the Man of the Match for his impressive display with the ball. He was delighted with his performance and the off-spinner is keen to contribute more to India's success.
"I bowl at such phases of the game, it's more of cutting the runs out, it can get a little difficult, but [the lack of a four-wicket haul] was playing on my mind today after the first five overs," Ashwin said.
"When it comes to this format, I'm pretty much unselfish, it doesn't matter if I get the numbers or not as long as I put in the effort required. My wrist is getting into a good position, and that helps with the arm ball, the breeze helped as well. It was good to play the big teams initially, now we're on a roll."
© Copyright IBTimes 2023. All rights reserved.