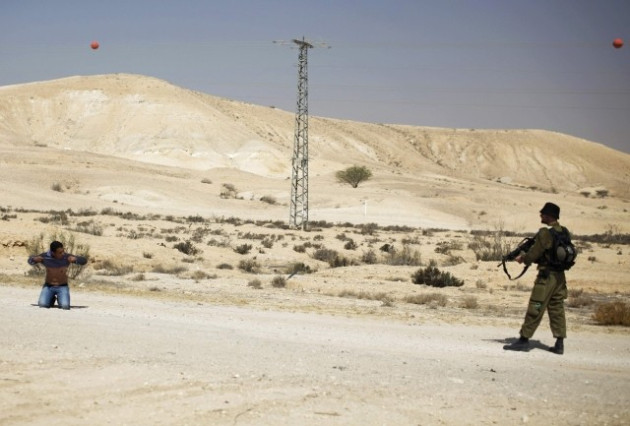 Clashes between the Israel Defence Forces (IDF) and militants who breached the southern border with Egypt have left an Israeli citizen and two terrorists killed, officials reported.
The gunmen placed an explosive near the border with Egypt and waited for vehicles carrying Israeli workmen involved in building a border fence to pass by.
The bomb hit one of the cars, killing Said Phashpashe, 36, from Haifa. Another workman was seriously injured.
IDF forces immediately rushed to the scene and started exchanging with the armed men.
At least two militants were killed. The Israeli forces found Kalashnikov assault rifles, grenades, helmets, bullet-proof vests, and camouflage clothing.
IDF ruled out the possibility that a third gunman remains in Israeli territory.
The incident took place on the border's "dune sector," in proximity to the Philadelphi Route, a narrow 14km road stretching between the Gaza Strip and Egypt.
IDF's Southern Command Major-General Tal Russo said the attack was "well-orchestrated".
Part of the terror cell remained lying in wait in the Egyptian side of the border, according to officials
Israeli Defence Minister Ehud Barack said that Israel expected the new president in Egypt to regain control of the Sinai Peninsula, defeating the terrorist infrastructure.
"We expect the president to take responsibility for all of Egypt's international commitments including the peace treaty with Israel and to ensure security arrangements are in place in the Sinai to stop these kind of attacks," Barak said.
Following the attack the IDF has closed all roads in the area.
In August 2011, a alleged terrorist infiltration left eight Israelis dead.
The Jewish state has claimed that the attack was planned by the Popular Resistance Committees, a Hamas offshoot based in Gaza, but carried out by Bedouin from Sinai.
Before the attack, Israeli forces hit a rocket manufacturing plant inside Gaza. Two Grad-model Katyusha rockets were fired into Israel from the Sinai Peninsula last week.
"This is a sensitive time for Egypt and we are prepared for the possibility that there will be a further escalation from the Sinai," a senior defence official said on Sunday.
The Israel-Egypt border project currently employs 1,500 workers.