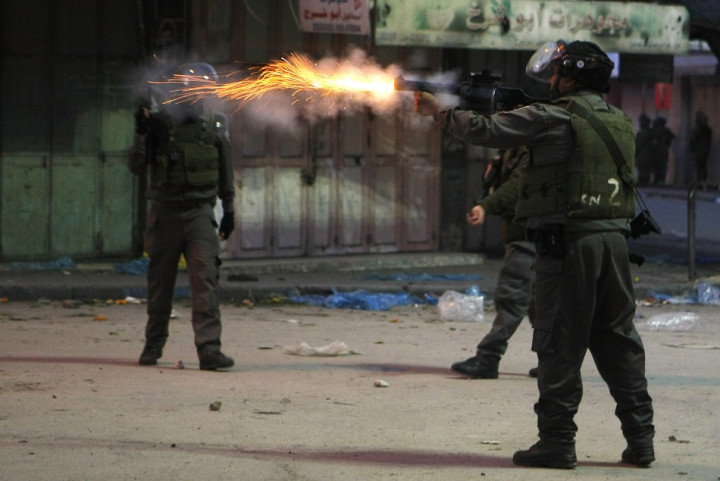 The Israel Defence Forces (IDF) have killed at least 10 Palestinians since 2005 with the use of crowd control weapons, in violation of international law, according to a human rights organisation.
Israeli NGO B'Tselem reports that over the past eight years six protesters have been killed in the West Bank with rubber bullets, two by gas grenades and two by air rifle pellets, which are commonly used for competitive sport shooting.
Other riot disposal weapons unlawfully used by the Israeli forces include skunk and water cannons, pepper spray and sponge rounds.
Although crowd control weapons are considered less lethal than live ammunition, B'Tselem claims "members of the security forces make almost routine use of these weapons in unlawful, dangerous ways, and the relevant Israeli authorities do too little to prevent the recurrence of this conduct."
The NGO adds that the security forces exploit the "ambiguous" wording of rules regarding open-firing, and no action has been taken to punish those responsible for violating the rules of engagement.
"Senior-ranking officers deny that violations of the open-fire regulations are the norm and classify injury to civilians from improper use of crowd control weapons as 'exceptions to the rule'," the report says.
In some cases, soldiers and border police have fired tear gas grenades at protesters with the aim of hitting them, or fired rubber bullets in circumstances prohibited by the international legislation. They have even fired bullets at such a close range to make them potentially lethal.
"They have also fired at minors, at the upper torso and at passers-by or demonstrators who had not been throwing stones and did not pose a danger to security forces or any other individual," the report adds.
"In some cases, commanders, including high-ranking officers, knew of the unlawful firing and even ordered it."
As far as the use of foul-smelling liquid Skunk is concerned, security forces have sprayed it at or near homes, "raising grave suspicions that it is being used as a collective punitive measure against residents of villages where regular weekly demonstrations are held".
In view of such infractions, B'Tselem believes the IDF has "extensively and systematically violated" rules that preclude deadly response to a non-lethal assault.
The report also claims that 43 Palestinians have been killed by live ammunition since 2005.
The IDF dismissed the report as lacking "factual merit", adding:
"When dealing with illegal and violent riots, the IDF is making every effort to minimise any harm to the protesters and its top operational goal is to contain the event sans any casualties.
"The report presents a biased narrative, relying primarily on incidents that are either old or still under investigation by the Military Police."
READ: When Will the Israeli Army Stop Using Tear-Gas as a Deadly Weapon? (BLOG)