Mushers and dog sled teams arrived from all over the world to participate in the first leg of Alaska's gruelling Iditarod Trail Sled Dog Race, starting an almost 1,000mile journey through the state's bitterly cold wilderness. The race, which is now in its 44th year, commemorates a 1925 rescue mission that delivered diphtheria serum by sled-dog relay to the western coastal community of Nome on the Bering Sea. Sled dogs have always been of great importance to daily life in the villages throughout Alaska and are considered a great part of Alaskan history.
The 2016 Iditarod features 85 mushers and teams each made up of 16 dogs, who set off on staggered starts from the town of Willow, an hour's drive north-west of Anchorage, where a ceremonial start was staged on 5 March. The winner is likely to cross the finish line eight to 10 days later.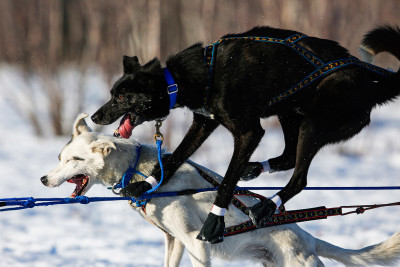 The test of extreme endurance covers 975miles this year and features desolate stretches of up to 85miles between checkpoints and unpredictable wind gusts as the trail hits the Bering coast. Last year temperatures along the route plunged to -51 Celsius.
The winner will take home a cash prize of $50,400 (£35,447) and a new pickup truck. Other top finishers will share in a total cash prize of $750,000. The sled dogs, ranging from three to eight years old, are required to take a 24-hour rest, plus two separate eight-hour stops during the race.