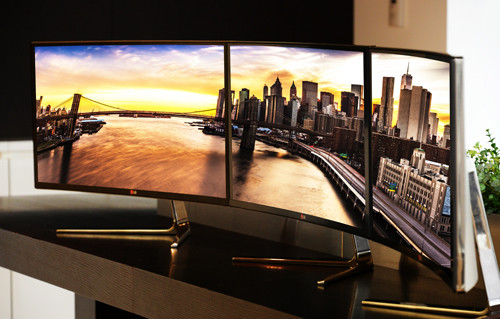 South-Korea based LG, which recently unveiled a flexible OLED TV panel that lets roll up the panel itself for up to 3cm just like paper, is now all set to officially launch new displays including the company's first digital cinema 4K monitor and a gaming monitor, at the upcoming IFA Electronics fair in Berlin.
However, the highlight among LG's new monitor range will be the company's 21:9 extra-wide curved monitor, which is claimed to be the first of its kind in the world to get a release.
LG's Freakishly Wide 34-Inch Monitor
"LG's flagship IPS 21:9 Curved UltraWide Monitor is a complete monitor solution, equally suited to the needs of professional users and home entertainment enthusiasts with extra screen real estate so users can get more done in less time," states LG, in a news release.
LG's Curved monitor (model number: 34UC97) incorporates a curved IPS screen, and is 34-inches wide. This ultra-wide monitor competes with the Asus 32-inch QHD monitor that was showcased at the recent Computex event.
Asus' 32-inch offering was claimed by the company to be the 'largest' display in the world; by virtue of its huge 32-inch width.
Large monitors are generally used by businesses, and in conference halls, these monitors also find application in certain domestic households as well.
LG states that its 34-inch ultra-wide monitor will be compatible with both Windows and Mac computers alike, and support Thunderbolt I/O interfacing technology which is claimed to be four times faster than the latest USB 3.0 standard.
"The monitor also features MAXX AUDIOand 7W stereo speaker system guaranteed to deliver peak audio performance across all frequencies", adds LG.
LG Digital Cinema 4K Monitor
Along with the ultra-wide 34-inch monitor, the South Korean electronics giant is also [planning to showcase a Digital Cinema monitor (model: 31MU97), that packs in a 31-inch screen, to handle 4096 x 2160 pixels resolution.
This monitor seems custom-made for multimedia professionals like video/film editors who get to watch uncluttered /pure 4K content in the same way it was recorded.
"The Digital Cinema 4K Monitor comes hardware calibration-ready and also features Dual Color Space and LG's exclusive True Color Pro calibration software," the release stated.
LG's New Gaming Monitor
The company has also included a gaming monitor, in the line-up of new displays that are set to be showcased at IFA, Berlin. This gaming monitor (model: 24GM77) is aimed at those preferring first-person shooter games.
The yet-to-be-showcased gaming monitor is said to have a refresh rate of 144Hz, which means that on-screen obstructions like flickers are comparatively reduced. This aspect should ensure a comparatively smooth gaming experience to users.
"Other notable features include Black Stabilizer for consistent blacks across different scenes and Game Mode, which offers three optimized settings that can be applied quickly by pressing a hotkey on the monitor, with the option to create customized presets. And Motion 240, developed exclusively for the Gaming Monitor, helps minimize motion blur with a fast response time of less than 1ms," say engineers at LG.