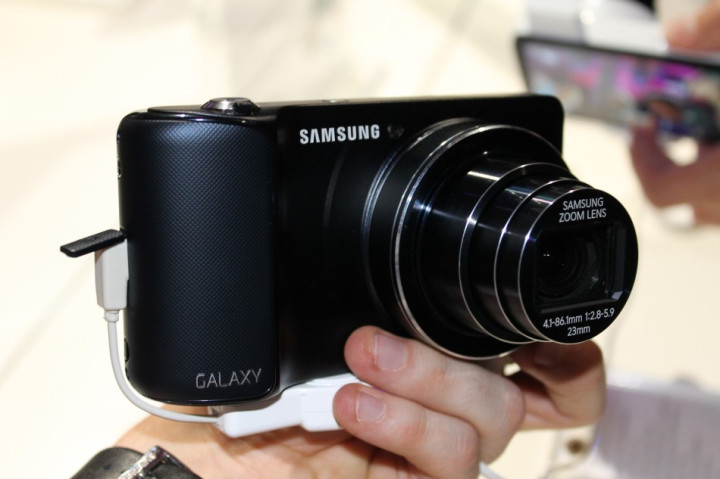 Key Features:
16 megapixel backlight-illuminated CMOS sensor
21x optical zoom
4.77in LCD screen
Android Jelly Bean
8GB on-board storage
1.4GHz quad-core processor
microSD card slot

Price: £399, UK release date: mid-October
It has often been said at IBTimes Towers that modern smartphones are quickly replacing the need for a point-and-shoot digital camera.
With the HTC One X, iPhone and Nokia 808 Pureview, we started to think that the smartphone could easily match just about any budget to mid-range digital camera - so why bother carrying both devices?
Well, it's a good job we don't own any billion-pound tech companies, because we would be dead wrong - at least according to Samsung, who announced the Galaxy Camera at its IFA press conference, a digital camera with a 16-megapixel sensor, 21x optical zoom, a massive 4.77in screen and, crucially, Android Jelly Bean.
What first strikes you about the Samsung Galaxy Camera is the size of it - it's big and chunky, but in a good way, as it's curves help you hold it comfortably in one hand.
Too many times we've tried to take a photo while grasping onto a size-zero smartphone with one hand, stretching our thumb to breaking point to reach the on-screen shutter button. But none of this is a problem with the Galaxy Camera.
In our hands-on time with the Android 4.1 Jelly Bean-powered camera we found it very easy to hold in one hand, with the two-stage shutter button in the perfect place to press, safe in the knowledge you won't shake the camera while doing so.
Wrapped around the shutter button is a zoom slider to operate that huge F2.8, 23mm lens with 21x optical zoom.
We found the camera took a few seconds to refocus once we had zoomed in a long way - but the product isn't yet ready for production, so we can't be too critical at this stage.
Another positive is that it can zoom while recording video - full 1080p HD and a massive 120 frames per second for slow motion video - and there's also touch-to-focus.
The 4.77in screen has a resolution of 1280 x 720 and a pixel density if 303 per inch which is mighty impressive for what is essentially a camera screen, and using the screen felt as intuitive as using any Android smartphone; sure, the camera app is the big draw, but there's absolutely everything else here too, save for a phone app, obviously.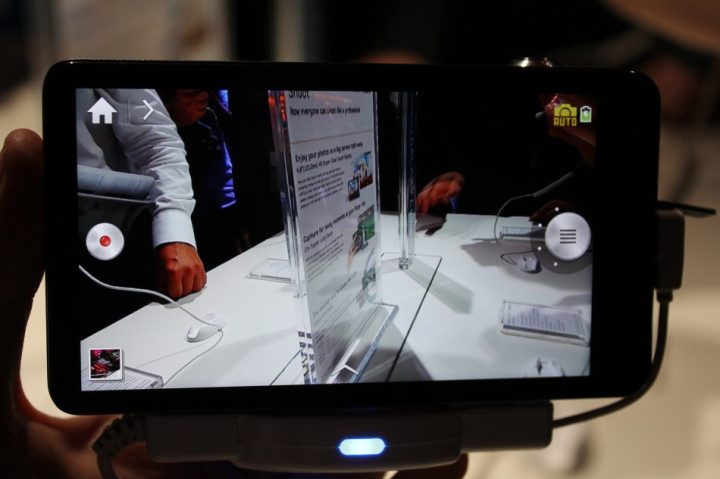 The Galaxy Camera promises to be blisteringly quick, thanks to its 1.4GHz quad-core processor, but during our time with the device all we can say is that it felt every bit as sharp and responsive as any smartphone or tablet on the market today.
Inside, there's 8GB of storage, plus a microSD card for 64GB more (using the recently released SanDisk 64GB microSD card) - although annoyingly that means your standard SD cards from every other digital camera will not fit.
For connectivity there's Wi-Fi a/b/g/n, Bluetooth 4.0, 3G (a 4G version will also be available) - although Samsung didn't say how pricing would work for using mobile data on the camera.
During the presentation, Samsung was keen to point out just how easy it is to take great photos with the Galaxy Camera, and how clever effects like blurred waterfalls and night shots can be achieved with no effort or photographic knowledge.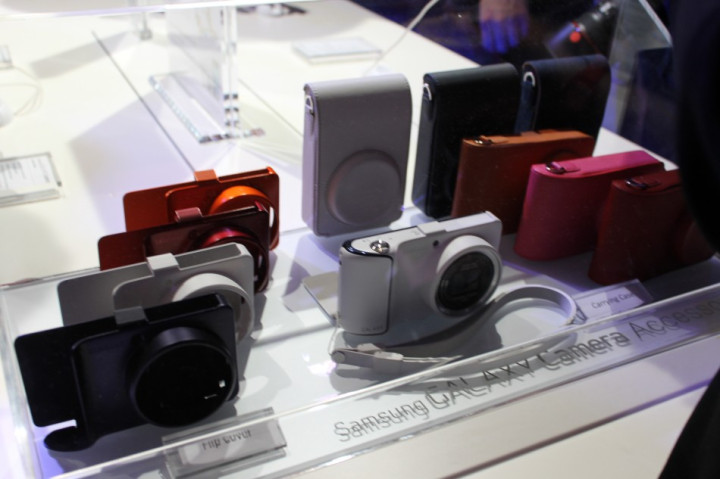 But fear not, pro photographers, because there's an almost limitless amount of tinkering that can be done to create the exact shot you want - everything from white balance and exposure to shutter speed and F.stop can be adjusted.
When we first heard rumours of the Galaxy Camera late last week, we weren't so sure. We were convinced that our smartphones could do everything a point-and-shoot can, but now we are starting to wonder if Samsung has a point here.
Taking photos for a prolonged time with a smartphone drains the battery, so there's still a point to owning a dedicated camera, and some of the clever Wi-Fi syncing features are very impressive.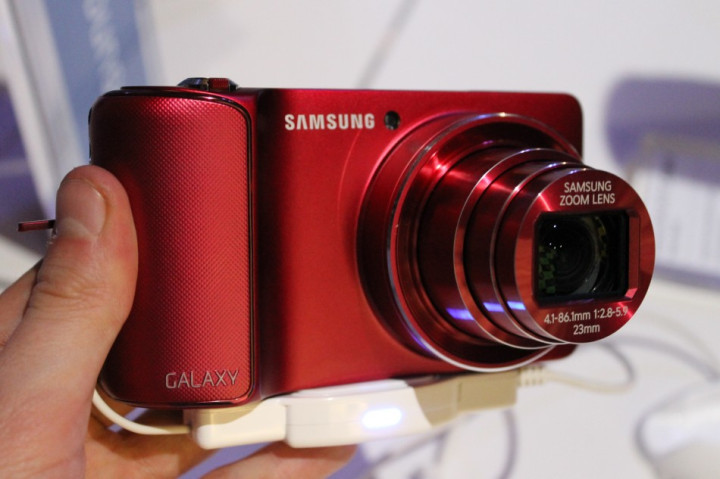 One such feature is the ability to sync the Galaxy Camera with your friends' smartphones, so when you take a group photo with the Galaxy, that photo will be instantly and wirelessly shared with their phones - clever, but probably something a smartphone could do too.
For us, the jury is still out on whether we need a smartphone and a smart camera in the same pocket, but Samsung has at least shown that it's not afraid to spread the Android seed far and wide, and create a camera that is head and shoulders above any other point-and-shoot camera we've seen to date.
Samsung said that the camera will go on sale in the UK in mid-October and will be priced at £399.
Must read: