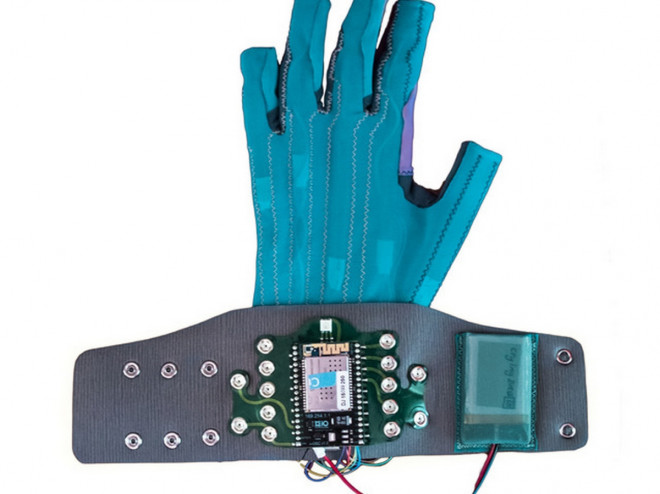 Singer-songwriter Imogen Heap has launched a Kickstarter campaign for Mi.Mu wearable tech gloves that can help musicians produce complex audio effects with just the swipe of a hand.
Heap is a Grammy Award-winning multi-instrumentalist who works with electronic sounds, recording and remixing audio clips live during performances to create complex layers of sound and music.
Working together with a team of engineers, computer scientists and musicians, she has designed a pair of gloves can raise sound levels, record sound clips, move sounds to different parts of the room and create advanced MIDI sound routing effects.
"Like most musicians I often use computers when I'm composing, recording and performing, but I've never felt that clicking a mouse or moving a fader is helping me to interact expressively with the sounds I'm producing. I've always wished I could control my equipment more naturally," Heap explains in her Kickstarter video.
"I'm often seen flitting between various different controllers and instruments, and I really wanted to play the computer in the same way I play the instruments, for my movements to reflect the sound you hear."
Each glove contains an x-IMU chip mounted on the back of the hand, which contains a Wi-Fi transmitter, magnetometer, gyroscope and accelerometer. There are also movement sensors embedded in the glove fabric.
A sensor on the glove picks up the light made from users flexing their fingers in the fibre optic data gloves and converts it into a digital signal.
The music control signal is then sent wirelessly from the gloves over Wi-Fi to a computer, where musicians can customise the controls for the glove on open source software.
The Gloves Project team have been working on the gloves in their spare time since 2009, based on initial research done at the University of West England in Bristol. Fibre optic data gloves are already in existence but have so far not been used to create complex sound controls.
Heap has already showcased early prototypes of the gloves at various tech conferences since 2012 and the gloves are finally ready to be launched.
Mi.Mu is looking to raise £200,000 on Kickstarter and a pair of gloves will cost £2,400 each, while backers who donate at least £1,200 will receive a single glove each.
So far £18,857 has been pledged and while some pledging categories are full, backers can still pledge £30 and above to receive "Me The Machine", Heap's first single using the Mi.Mu glove on CD.