Team India's head coach Anil Kumble refuted allegations that Test captain Virat Kohli was involved in ball-tampering, saying that none of the players in the team tried to change the condition of the ball during Rajkot Test.
Recently, in another ball-tampering issue, stand-in South Africa skipper Faf du Plessis was found guilty of influencing the condition of the ball and was fined 100 per cent of his match fee.
The controversy started when a video footage showed Kohli rubbing his fingers in his mouth and then shining one side of the ball during India's first Test against England at Rajkot. Several experts have pointed out that Kohli's actions were similar to that of du Plessis's, which ultimately cost him his match fee for ball tampering in the Hobart Test.
Kohli, however, will not be under investigation as the mandatory five-day window had passed by the time the footage emerged. Any such incident has to be reported within five days to the match-referees who in turn report the complaint to the International Cricket Council (ICC).
"First of all, I don't want to react to any report in the media. As far as I am concerned, umpires as well as the match referee never came to us talking about it. For someone like Faf du Plessis, South Africa played exceptional cricket to beat Australia, to be told about ball tampering is silly. There is nothing to worry about, people can allege and write whatever they want. As far as we are concerned, none of our players were part of it", said Kumble as quoted by Hindustan Times.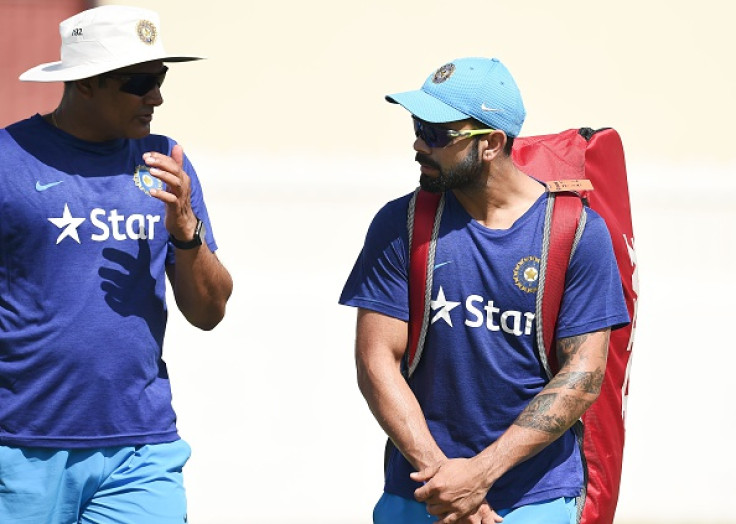 Du Plessis, for his part, has claimed innocence, saying that he was not trying to influence the condition of the ball by applying any artificial substance. In fact, the whole South African squad stood behind him, with senior batsman Hashim Amla calling the allegation ridiculous.