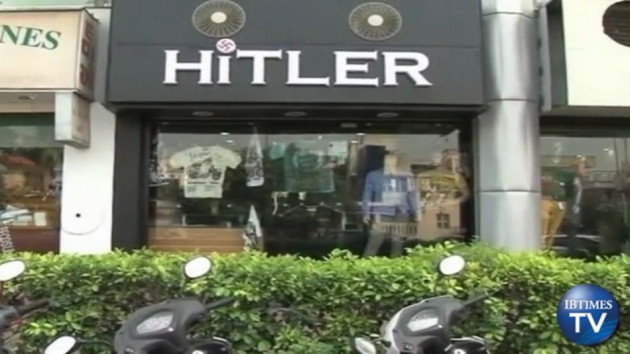 The owner of a shop in India named "Hitler" has agreed to drop the name and re-brand his business following protests from the Jewish community and the government.
Rajesh Shah, who opened the men's clothing store in August, told the Indian Express he would change the name after a worldwide outcry.
The shop in Ahmedabad spelled out "Hitler" in large white letters on its fascia. A swastika was painted inside the dot on the "i".
"We received at least 10 calls every day from the US, the UK, Dubai, Germany and Israel. It was getting very annoying, as many of these people called at odd hours," Shah said.
The announcement came after Israeli envoy Orna Sagiv complained directly to state officials in Gujarat.
Sagiv said she tried to explain to the officials "how grave and serious the issue is."
Manish Chandani, co-owner of the store, told AFP that the shop's name was a tribute to his grandfather who was nicknamed Hitler for being a "very strict man".
"I plan to change the store's name very soon. There is tremendous pressure from the government and the Jewish community to drop the name," he said.
"I was not aware of Hitler being responsible for the killings of six million people before the shop's inauguration," Chandani said. "This time I will choose a non-controversial name."
Hitler is revered among sections of the Indian population. His manifesto, Mein Kampf, is a best-seller in many bookshops and street stalls.
In 2006, a Mumbai restaurant owner called his café "Hitler's Cross" and put a swastika on the sign, claiming it was a catchy name.