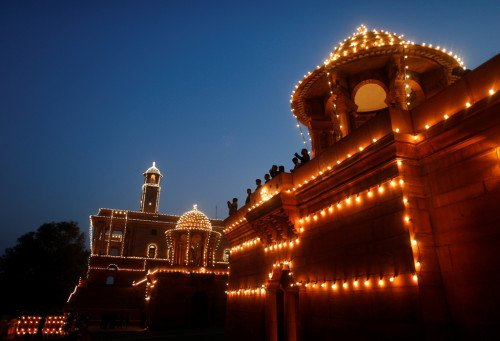 India has marginally cut its estimate of 5% growth forecast for the financial year that ends on 31 March, 2014.
Asia's third-largest economy is expected to expand 4.9% in fiscal 2013/14, dragged down by a contraction in factory activity, a government statement said on 7 February.
India's farm output is forecast to grow 4.6% in the fiscal year to 31 March, a jump from 1.4% a year ago.
However, the manufacturing sector is expected to contract 0.2% as against 1.1% growth in 2012/13, data from the statistics ministry showed.
Finance minister P Chidambaram is widely expected to roll out measures including a cut in factory gate duties on some products, in a bid to boost factory output, when he presents an interim budget for the coming fiscal year in parliament on 17 February.
The full-year budget will be presented by the next finance minister after the 2014 general elections.
Election Prospects
Indian premier Manmohan Singh, South Asia's longest serving prime minister, will lead his coalition government to the polls due by May. But high inflation, weakening economic growth over the years and multiple graft scandals have dented his coalition's image.
The Congress Party-led government has cleared hundreds of much-delayed projects such as power plants, mines and ports. However, given the time lag in actual investments, the impact of those decisions will be visible only in next year's growth figures.
"Notwithstanding a favourable monsoon in 2013 and healthy agricultural performance, the pickup in rural demand has been uneven and weaker than expected," said Aditi Nayar, an economist at ICRA, the Indian arm of rating agency Moody's.
"Factoring in a pickup in agricultural growth to 5.0% in the latter half of this fiscal, ICRA expects Indian GDP growth in FY14 to come in towards the lower end of our forecast band of 4.7% to 4.9% in 2013/14," Nayar said, reported Reuters.
Slowing Demand
Consumption, which contributes around 70% to the near $1.8tn economy, is expected to grow 4.5% in fiscal 2013/14, down from 5.2% in the preceding year, according to a Citigroup research note.
Meanwhile, the Reserve Bank of India in its quarterly review last week said the weakening of private consumption and investment demand had diminished the prospects of a second-half pick-up in GDP growth.
The statistics ministry last week revised down economic growth for the previous fiscal year to 4.5% - the slowest pace during the decade that Singh ran the country - from an earlier estimate of 5%.
The recent interest rate hike by the central bank to defend the rupee and curb retail inflation - three times since Raghuram Rajan took charge in September 2013 - has also reduced the chances of early economic recovery.
The Indian economy expanded by 4.6% in the first half of the current fiscal year, down from 5.3% in the corresponding period a year ago. Growth weakened in almost all sectors, including in services such as telecoms, tourism and transport.
India's economy expanded at over 9% annually for three consecutive years during the 2005/06 to 2007/08 period.