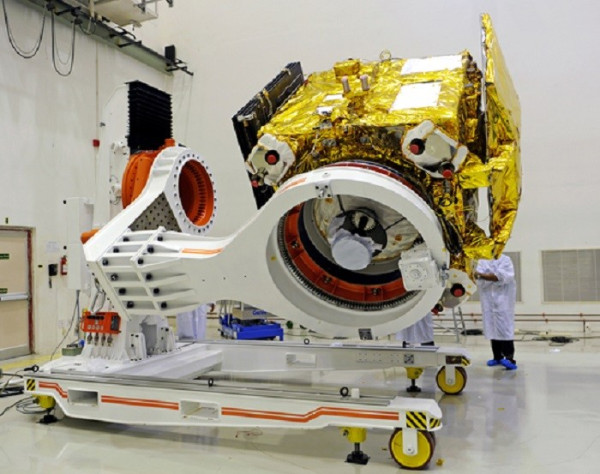 India will launch a robotic spacecraft into orbit around Mars next week, in the country's first mission to deep space.
The unmanned spacecraft, weighting 1.35 tonnes, will leave Earth attached to a PSLV-C25 rocket on Tuesday afternoon.
The countdown to the launch began at 6.08am (12.38am GMT) on Sunday at the Satish Dhawan Space Centre in Sriharikota, 100km outside Chennai, and will last for nearly 56 hours.
During the countdown, the giant 45-metre rocket will be fuelled and its systems monitored.
The principal aim of the mission is to test India's technology for interplanetary exploration.
The spacecraft will also collect scientific information about Mars's atmosphere and surface to see if there are traces of methane, which would help prove the existence of primitive life.
K. Radhakrishnan, chairman of the Indian Space Research Organisation (ISRO), the country's space agency, said last week: "Any interplanetary probe is complex. As we can see for Mars, there were 51 missions so far around the world and there were 21 successful missions.
"If it is a failure, then learn. Failure is a stepping stone for success."
The nation is seeking to become the first Asian power to reach the red planet after a Chinese attempt to send a spacecraft named Yinghou-1 to Mars was aborted in 2011 because of a technical problem.
It propelled the Indian Space Research Organisation, (ISRO), the country's space agency, to then fast-track its Mars mission, called Mangalyaan, which was given 15 months to prepare on a low budget.
Because it is not large enough to fire the satellite directly out of the Earth's atmosphere, the 350-tonne rocket will orbit Earth for nearly a month to allow it to build up the necessary momentum to escape the Earth's gravitational pull.
India has already succeeded in a mission to the moon in 2008, when it helped prove the existence of water.
Mylswamy Annadurai, project director of the Chandrayaan-1 and Chandrayaan-2 missions, told the Hindustan Times they could not be compared with the Mars probe.
He said: "In Chandrayaan-1, we had to cover a distance of around 400,000 km, the travel distance now is nearly 200 to 400 million km. Also, Chadrayaan-1 remained within the Earth's sphere of influence all along. The orbiter will move from the Earth's sphere of influence to the sun's sphere of influence, and finally to Mars's sphere of influence."
If the Mars mission is successful it will bolster India's reputation as a leader in low-cost innovation.
The United States is the only nation to have successfully sent robotic explorers to Mars. The most recent was Curiosity, a nearly one-tonne vehicle which touched down in August 2012 and is still exploring the planet's surface.