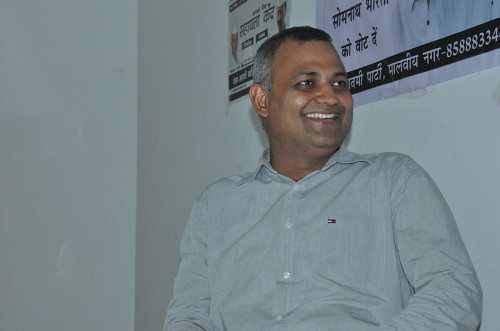 Several Africans have left or are considering leaving the Delhi neighbourhood of Khirki Extension after a group of Indians conducted a late-night raid on a house last week, the New York Times reported.
According to some residents, the raid was led by Somnath Bharti, Delhi's law minister.
Several Ugandan and Nigerian women have accused Bharti of leading the raid against them, in which they were forced to urinate publicly for a drug test.
In a televised video, Bharti was seen demanding the police arrest the women, and local media reported that he condemned members of a rival party for being complicit in sex and drug rackets in the area.
In the video, Bharti allegedly said: "Nigerian girls and men all indulge in prostitution and drug trafficking and it is a threat to local ma, behen, beti (mothers, sisters and daughters)."
One of the Ugandan women targeted in the raid has recorded her statement before a magistrate and identified Bharti as the man who led her attackers. She has alleged that a mob entered her home, beat her and molested her.
The Delhi Commission for Women, which is investigating the case, summoned Bharti to appear before it by Friday.
The Congress has met the lieutenant governor and demanded that Bharti be sacked, as has the Bharatiya Janata Party (BJP), according to IBN Live.
New Delhi TV also claims that over 40 academicians and rights activists have asked Delhi Chief Minister Arvind Kejriwal to dismiss Bharti, alleging "racist and sexual violence" on the African women who were targeted in the raid.
In an open letter to Kejriwal, the activists said: "What basis did Mr Bharti have to assume these women were criminals - except their race/colour and the fact that they were out on a street at night?
"Is it not flagrantly illegal on the minister's part to endanger the women by asking an agitated crowd to 'catch' them?"
The raid brought attention to the deep insecurity, isolation and racist persecution from which many Africans suffer in India.
"There is no security for black people in India," Emmanuel Omodu, a 31-year-old Nigerian who lives in India, told the New York Times.
The Ministry of External Affairs called all African envoys for a meeting last week to assure them that the government intends to take appropriate action regarding the "condemnable" incident.
"It is a matter of concern and the government is committed to share the details of the case with Uganda and other African countries," the External Affairs Ministry spokesperson said.