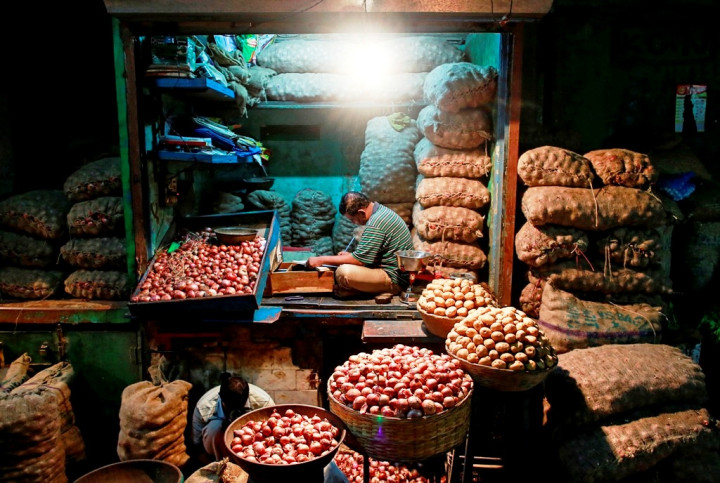 India's wholesale price inflation eased to a near five-year low in September, according to government data.
The wholesale price rise was lower than expected last month as food and fuel price-increases moderated.
The wholesale price index (WPI) rose 2.38% year-on-year in September, its slowest pace since October 2009, and followed a 3.74% increase in August and a upwardly revised 5.41% jump in July.
Economists polled by Reuters had forecast a 3.3% jump in the WPI for September.
Cheaper food and fuel prices pulled down September's WPI reading. Wholesale food inflation dropped to 3.52% on lower vegetable prices. Food inflation hovered at 5.15% in August.
Falling global crude oil prices pulled down fuel inflation to 1.33% from 4.54% in August.
The WPI numbers followed upbeat consumer price inflation data from Asia's third largest economy.
Data published on 13 October showed consumer price inflation, which India's central bank tracks to determine policy lending rates, fell sharply to 6.46% in September, the lowest on record.
Capital Economics said in a 13 October note to clients: "Indian consumer price inflation fell to its slowest pace on record in September. With the latest data also pointing to continued weakness in the industrial sector, we remain of the view that interest rates are likely to be cut a lot earlier than most seem to expect."
ANZ Research said in a 3 October note: "CPI inflation is likely to drop sharply through end 2014. The [Reserve Bank of India] will be closely watching how much inflation bounces back up in early 2015. Subsidy reductions for cooking gas and kerosene are overdue and have fallen off investors' radars. Any moves on this might come as unexpected."