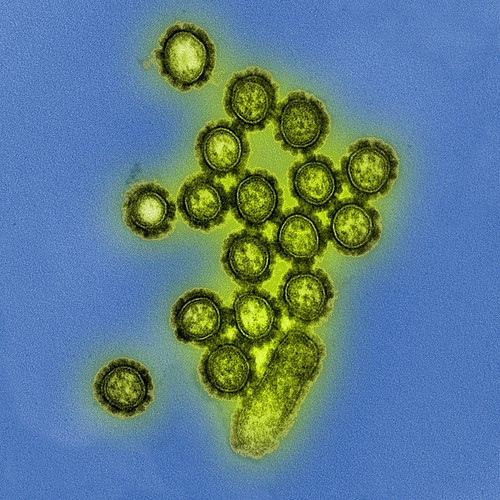 With the onset of winter, swine flu is back again in India. At least 52 deaths have been recorded in Gujarat from August to mid-October, while Chattisgarh, Maharashtra and Telengana have begun to see a rise in numbers. In Nagpur, eight deaths have been recorded in November alone, according to media reports.
Earlier in the year, between January and April, Gujarat and Rajasthan reported over 400 deaths with lower but considerable numbers reported from Maharashtra, Chattisgarh, Telengana and Karnataka. The national death toll from swine flu was at 1,674 and the number of cases exceeded 29,000 as on 13 March, according to the health ministry. Experts now fear that the virus has adapted to weather changes and become endemic in some parts of the country like Gujarat.
Swine flu, also known as H1N1 type A influenza, is a human disease transmitted between people. The virus which originally jumped to humans from pigs in which it evolved is termed a "reassortant" – carrying a mix of genes from swine, bird and human flu viruses.
The H1N1 influenza virus was first detected in 2009 when it spread rapidly around the globe after it was first identified in Mexico. The US Centers for Disease Control (CDC) estimates that the global death toll from the 2009 pandemic was more than 284,000. The three sub-types of swine flu include H1N1, H3N2 and H2N2.
Symptoms and prevention
Coughing, sneezing, body ache, fever, chill, fatigue, diarrhoea, vomiting, restlessness, sore throat and running nose are some common symptoms. Severe bilateral pneumonia that leads to sepsis and multi-organ failure often leading to death is also a complication that can arise.
Flu medications such like Oseltamivir (Tamiflu), Zanamivir (Relenza) and Peramivir (Rapivab) are used in treating swine flu. The first 48 hours after the onset of flu symptoms are, however, critical for effective use of these medications.
Swine flu is contagious and spreads through saliva and mucus spilled into air when coughing or sneezing. It can also spread by touching contaminated surfaces and then touching one's eyes or nose.
The best way to protect against swine flu is to get vaccinated. A trivalent influenza vaccine that gives protection against H1N1, H3N2 and Influenza B is available. The vaccine takes at least two weeks to develop immunity and provides about 60-80% protection for nearly a year. Getting vaccinated every winter is necessary as the virus is believed to keep mutating.
Normal precautions like washing hands frequently, taking care to keep distance when around sick people and isolating sick persons are also advised. A good dose of sunlight and a diet containing vitamin D such as mushrooms, egg yolk, sardines or fortified milk products could keep swine flu at bay, research has found.