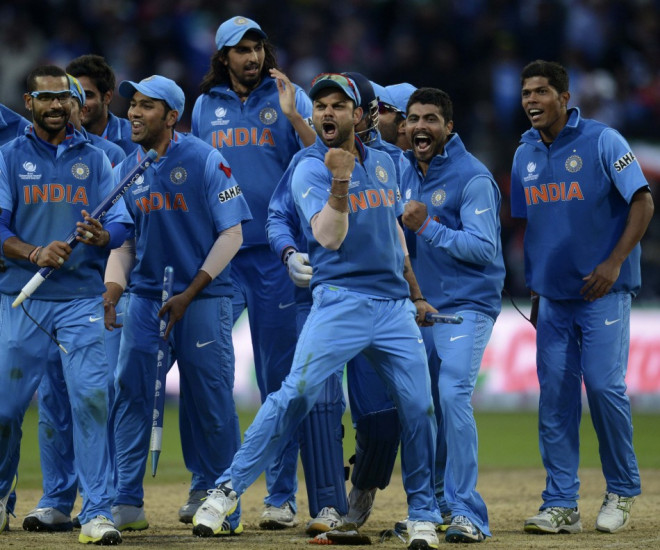 India have restricted Pakistan to a total of 130-7 in the first innings of their T20 match in Mirpur.
The Indian spin bowlers, led by Amit Mishra, throttled the Pakistani batsman and gave their team an excellent chance of victory, although Virat Kohli's men will be wary of the potential problems posed by the slow wicket.
All the Pakistan batsman got in, but they were unable to go on and make a decisive total, with several holing out in the deep.
Pakistan's star batsman, Shahid Afridi, flickered briefly but was dismissed for eight, sweeping a full-toss from Bhuvneshwar Kumar to Suresh Raina in the deep.
Raina was excellent in the field, taking three catches just yards from the boundary rope, but many Pakistan supporters will feel Afridi should have been promoted up the order to galvanise his team, who struggled throughout after losing the toss.
Mishra produced arguably his best display in T20 cricket, taking 2-22 from his four overs, while Jadja again underlined his all-round value with a parsimonious spell of 1-18.
Pakistan's stand-out performer was Sohaib Maqsood, who bludgeoned 21 from just 12 balls, with a six and two fours, to haul his team to a total about six runs an over.
Given the firepower in India's batting line-up, Pakistan's total may not be enough. However the men in green have their own battery of wily spinners, and Saaed Ajmal could prove fiendishly difficult to play on this slow, turning wicket.
Afridi, meanwhile, will be keen to atone for his disappointment with the bat, and will hope to rattle through his four overs to disrupt the Indian batsman.
So it's all to play for as India begin their innings. Stay tuned to IBT's live blog for updates of all the significant action.