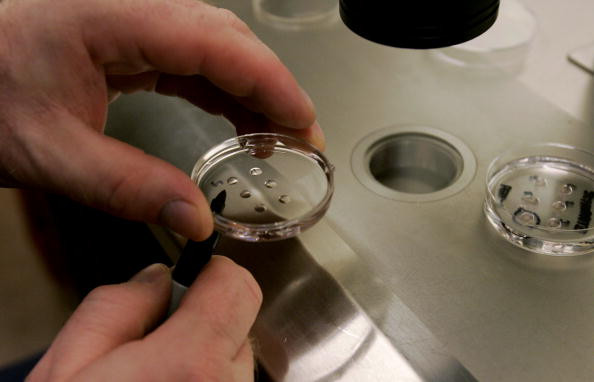 A 60-year-old Indian woman has delivered a healthy baby, years after her menopause.
The miracle was made possible by a combination of in-vitro fertilisation and hormone therapy.
"You're seldom blessed with the joy of becoming a mother at this age," said Punji Patel, the 60-year-old who successfully delivered a 3.9kg healthy baby boy.
Married for 35 years, Punji went through menopause about 15 years back and had an atrophic uterus.
Desperate to have a child, she then underwent uterus reactivation using hormone dosages. Very soon she started to have periods, reports Times of India.
Doctors then paced her on IVF trial and Punji became pregnant after the first attempt that used her 65-year-old husband's sperm to fertilise the egg.
"The woman's uterus had become extremely small because of hormone deprivation, especially oestrogens. In her case, pregnancy looked virtually impossible but she wanted to go ahead. Therefore, we reactivated her uterus through hormone dosages and she started having menses. Then we put her on IVF trial and an embryo was created using the sperm of her husband," said IVF specialist Dr Mehul Damani.
Chances of getting pregnant after menopause are not totally ruled out but are approximately 5% at best, say medical experts.
With hormone levels fluctuating wildly for a period of ten years or so after 40, during what is perimenopause, the hormonal balance to facilitate fertility is missing.
Moreover, the eggs are quite old and diminishing in quality, and a viable pregnancy may be hard to come by.
And even when the women get pregnant, chances of miscarriage are high. There are risks for the woman and child usually. These include developing infections, embolisms, and hemorrhaging.
Strokes and seizures are also at a higher incidence for older women who are pregnant.
However, more women above 50 are opting to get pregnant today using donor eggs from younger women. Where the ovaries may stop producing eggs, the rest of the reproductive system can be primed with estrogen and progesterone enhancement, to help the women carry the pregnancy to term.
The problems as most agree lie with implications of child raising by old parents.