In a first-of-its-kind event, Indian and Chinese yoga enthusiasts performed the ancient Indian art of yoga on the famous Great Wall of China on Tuesday (20 June) on the eve of International Yoga Day.
Nearly 200 people took part in the event that preceded elaborate countrywide celebrations on Wednesday. Some 20 young Indian yoga ambassadors from the Morarji Desai Institute in India were on a special visit to the communist nation for the occasion.
India's Minister of State for External Affairs V K Singh also participated in the event before heading back home after attending a Bric foreign ministers' meeting in Beijing, according to Press Trust of India.
In a brief speech, Singh told the gathering the significance of doing yoga on a daily basis. Quoting Indian Prime Minister Narendra Modi, he added that yoga was Indian civilisation's gift to the world.
The Yoga event was jointly organised by the Indian embassy in China, the Beijing Chinese People's Association for Friendship with Foreign Countries (Cpaffc), and Yogi Yoga - a popular yoga school in China.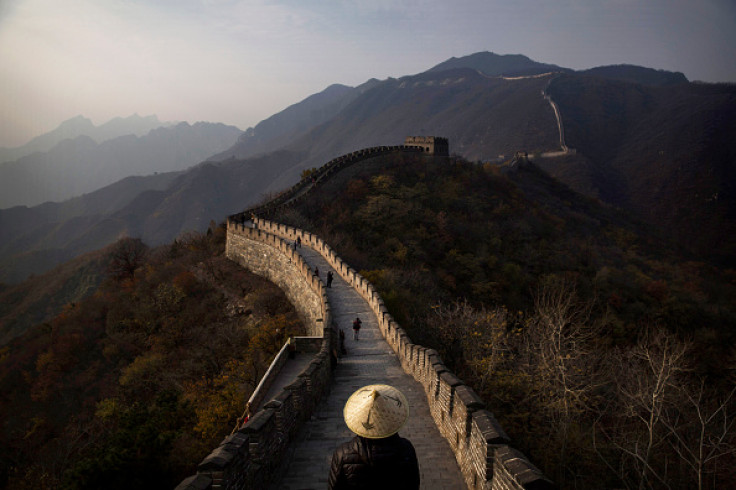 The Indian embassy termed the event as a cultural milestone in which the ancient Indian art was performed atop the Chinese marvel.
"Great Wall of Yoga. Yoga gets on top of the Great Wall and into Chinese hearts," the embassy tweeted. The embassy also tweeted latest images of International Yoga Day celebrations across the country on Wednesday.
Amit Narang, Charge d'Affaires of the Indian Embassy, and Lin Yi, Vice-President of Cpaffc, said the event marked a crucial development in Indo-China friendly cultural exchanges.