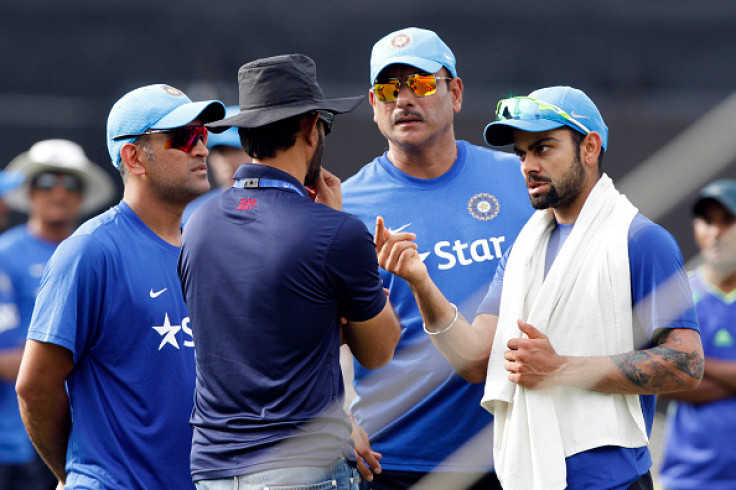 In what is good news for Ravi Shastri, some senior players have requested the Board of Control for Cricket in India (BCCI) to ensure that he continues to be in charge of the team. The former all-rounder was appointed as team director with his contract drawing to a close at the end of the recently concluded ICC T20 World Cup 2016. However, with the players behind him, the post could come up for a renewal.
The players are reportedly impressed with the "positivity" and "aggression" that Shastri brings to the team. BCCI secretary Anurag Thakur said Shastri's contract could come up for renewal if the Cricket Advisory Committee (CAC) consisting of Sachin Tendulkar, Sourav Ganguly and VVS Laxman decides to put their trust in him.
"We consulted the players recently on who they want to be the head of the team and many senior players were all praise for the work done by Shastri, and have said that they would be really happy if he continues in his role. A decision would be made soon, there won't be a Team Director and a full-time coach. It will be only one post, and even Ravi's contract can come up for renewal," a BCCI source said as quoted by The Indian Express.
The 53-year-old had taken over as the team's director of cricket in 2014 after India lost a Test series to England. His appointment started brightly, with India winning the One Day International (ODI) series in England, and despite losing a Test series to Australia 2-0, the team management won rave reviews for the way India played under new test skipper Virat Kohli.
Shastri was in charge as the team reached the semi-finals of the ICC World Cup 2015, losing to eventual champions Australia. He then oversaw India winning their first Test series in Sri Lanka in 22 years, beating them 2-1. The biggest achievement though was yet to come as the Men In Blue thrashed the then world number one Test team South Africa 3-0 at home.
In what was a rarity, India lost an ODI series to Australia 4-1, rallying back to sweep the T20 series. Since then, they have won the T20 Asia Cup 2016 while ending as semi-finalists in the ICCT20 World Cup 2016.