Indian Markets Pare Gains After Hitting Record Highs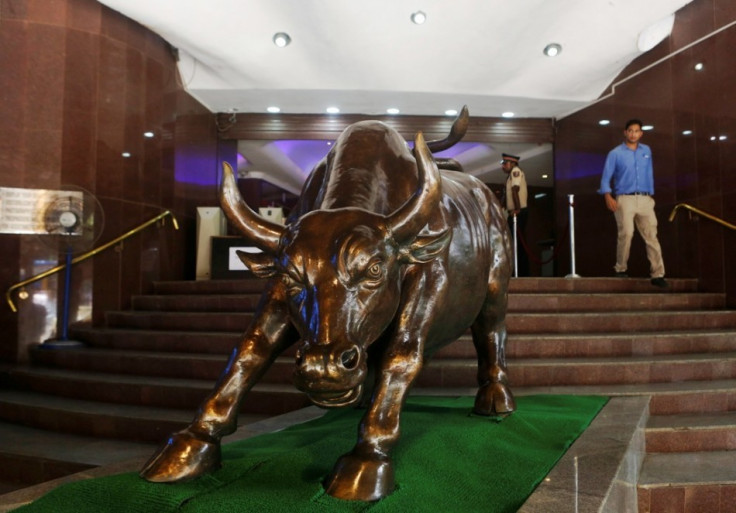 Indian stock markets pared most of their early gains on 19 August, but only after scaling record highs for the second straight day.
The 30-share benchmark S&P BSE Sensex finished 0.11% – 29.71 points – higher at 26,420.67 points in Mumbai, boosted by foreign institutional inflows. The index has gained some 25% this year.
The 50-share NSE CNX Nifty closed 0.30%, or 23.25 points, at 7,897.50 points.
The Sensex shot up some 0.53%, or 139.71 points, to a record-high 26,530.67 points in Tuesday morning trade. The Nifty jumped some 0.56%, or 42.2 points, to a historic high of 7,918.55 points.
Both indices have gained some 25% this year on strong foreign institutional inflows. Foreign institutional investors (FIIs) have pumped over $12bn (£7.2bn, €9bn) into the Indian equity markets so far this year.
Premal Madhavji, the head of India equities, Espirito Santo Securities, told IBTimes UK: "Overall bullish sentiment on expectations the [Modi government] is taking steps to strengthen the economy has triggered fresh FII inflows (YTD $12.3bn), taking the indices to fresh highs (up 25% YTD, best performer among the largest global markets).
"This [has] resulted in the rupee climbing to a month high. The decision to cut the size of the weekly bond auction signals an optimism the government is stepping up efforts to cut the budget deficit. Fear of a weak monsoon derailing the agricultural output has eased, after the rainfall deficit reduced."
HSBC Weighting
HSBC has said that Indian shares are the second-most expensive in Asia ex-Japan after the Philippines.
In a note to clients earlier in the day, HSBC warned that valuations still look high and that foreign mutual funds were still "very overweight" on Indian shares.
The bank stuck to its "neutral" weighting on India.
The markets in part took their cues from prime minister Narendra Modi's 15 August Independence Day speech.
In his maiden Independence Day speech, Modi called on global businesses to move production to India, and also announced his decision to scrap the Soviet-style Planning Commission, which was widely considered to be at odds with economic reforms.
Sensex Outlook
On 13 August, Nomura analysts forecast the Sensex to touch 30,310 points by end-August 2015. The target implied a 17% gain from 12 August's close.
© Copyright IBTimes 2023. All rights reserved.