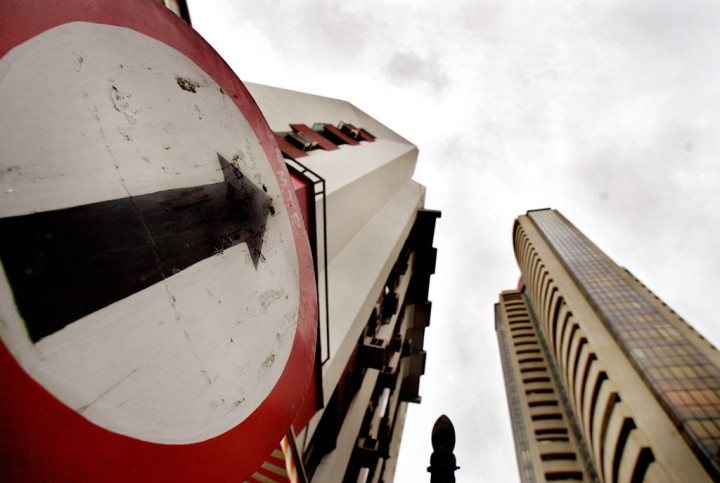 India's benchmark 30-share average finished a tad higher on 13 August even after the government put out downbeat macro-economic data.
The S&P BSE Sensex share average finished 38.18 points, 0.15%, higher at 25,918.95 on a day when government data painted a depressing inflation picture in Asia's third-largest economy, which in turn followed disappointing industrial production data.
Retail inflation or the Consumer Price Index (CPI) inched up to 7.96% in July from 7.46% in June 2014, mainly because of higher priced vegetables, fruits and milk.
RBI's Hands Tied
ANZ Research said in a note to clients: "CPI inflation jumped back up to 8% driven by a spurt in food and core. Market hopes that the [central bank] would be in a position to cut rates were dealt a blow by resurgent inflation over July.
"Though IP growth disappointed, a deteriorating inflation outlook will effectively tie the hands of the [Reserve Bank of India]. We continue to forecast no change in rates in 2014."
Standard Chartered said in a note: "After a sharper-than-expected acceleration in July's CPI inflation to 7.96%, we acknowledge upside risk to our WPI inflation forecast of 4.9% y/y for July."
"June's WPI inflation picked up 5.4% y/y. However, a significant acceleration is unlikely given the favourable base effect.
"In contrast with a 5% increase in crude oil prices between June and July 2013, prices this year have declined by a similar amount. This is likely to keep the headline number in check. Core WPI inflation might move towards 4.0%," StanChart said.
"Given higher inflation prints, especially for the CPI, we maintain our call of no change in the repo rate in FY15 (ends March 2015)," StanChart added.
Worst is Over
Societe Generale Cross Asset Research said in a note: "We believe that the worst is now over for the Indian economy. We expect India's investment cycle to recover, albeit slowly, as the new government will likely be able to take steps aimed at removing hurdles to ensure that a fairly sizeable number of these projects are restarted."
"We expect that a more industry-friendly Land Acquisition Bill will become reality early next year while the process of granting environmental clearance has already been streamlined.
"Given the government's stated focus of revamping India's infrastructure which was reiterated in the current budget, we expect India's growth revival to materialise on the back of the uptick in investment activity in the country," SocGen said.
"However, progress will likely be slow as the benefits of such policy decisions will take some time to trickle down. Our baseline scenario is that over the next five years, India's gross investment rate will rise by around 3% of GDP and this could potentially push India's growth rate higher, to around 7% by FY2019 (Apr 18 to Mar 19) from the current 4.6%," SocGen added.
Sensex Outlook
Earlier in the day, Nomura analysts forecast the Sensex to touch 30,310 points by end-August 2015. The target implied a 17% gain from 12 August's close.
Nomura said in a note: "The cyclical pick-up in growth is being ignored by the market obsessed with bold policy and reform moves by the new government."
Government data released on 12 August showed that the Index of Industrial Production (IIP) slowed to 3.4% in June, from 5% in May, mainly because of lower output of consumer goods.