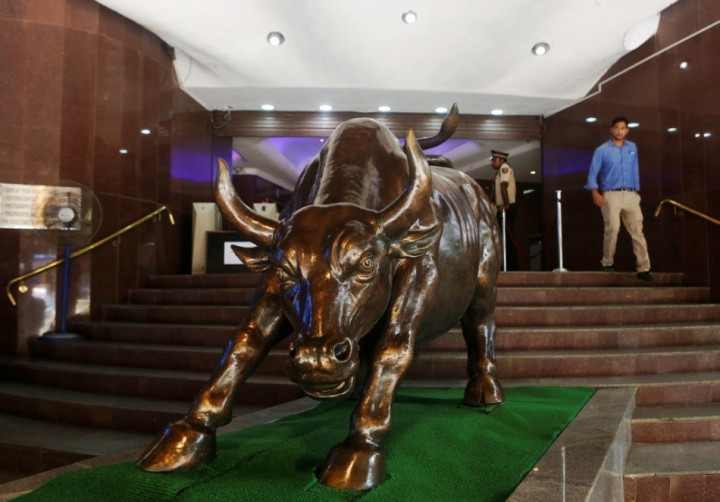 India's benchmark BSE Sensex share average logged strong gains on 11 August, boosted by automotive and realty stocks.
The Sensex finished 190.10 points, or 0.75%, higher at 25,519.24 points on Monday.
The 30-share average was propped up by Jaguar-Land Rover (JLR) parent Tata Motors' stock, which rallied ahead of the firm's earnings update, boosting the sectoral index.
The Sensex was also boosted by realty stocks, which took their cues from the market regulator's decision to permit creation of real-estate investment trusts (REITs) and infrastructure-investment trusts in the country.
The S&P BSE Auto index finished 2.65% higher.
The S&P BSE Realty index finished 0.96% higher.
Tata Motors
Tata Motor's stock finished 3.33% higher in Mumbai.
India's biggest automaker by revenue, Tata Motors' shares rallied on expectations that the firm will report an over 100% jump in net profit, on the back of a strong performance by subsidiary JLR.
REITs
REIT Rules finalised over the weekend state that only commercial properties, such as office buildings can be part of a REIT.
All REITs have to be listed on a stock exchange. In addition, the minimum value of assets held by a REIT should be 500 crore rupees ($82m, £49m, €61m) and the minimum issue size for the initial offer should be half of it.
Anuj Puri, Chairman & Country Head, Jones Lang LaSalle (JLL) India, said in a note: "With the stamp of approval by [Sebi], REITs are finally a formalised concept. This is a big change from the ambiguity and uncertainty that prevailed about this very important instrument in previous years. It is gratifying to note that [Sebi] fully intends to deliver on its assurances of bringing better and faster funding into Indian real estate."
"As the drafts for REITs stands now, further clarity about taxation eligibility norms is definitely required, and will doubtlessly come before the first listing goes up. When this happens, there will be vastly increased interest from foreign investors."
"Currently, Grade A office space in the top seven cities of India amounts to around 376 million square feet, and we anticipate that approximately 50% of this space will get listed in next 2–3 years. The valuation of these assets is around $10bn $12billion, and this accounts for a fairly massive influx of funding waiting in the wings to hit the Indian real estate market via REITs over the next few years," Puri added.
Anshuman Magazine, Chairman & MD, CB Richard Ellis (CBRE) South Asia said in a note: "This move is a positive signal for India's capital markets as a whole, and the realty sector in particular...although the government has already clarified that India REITs will be given 'pass through taxation status', clarifying the tax structure is of high importance at the moment."
"A successful India REIT market will require strong support from existing landlords and investors, as well as favourable market conditions," Magazine added.