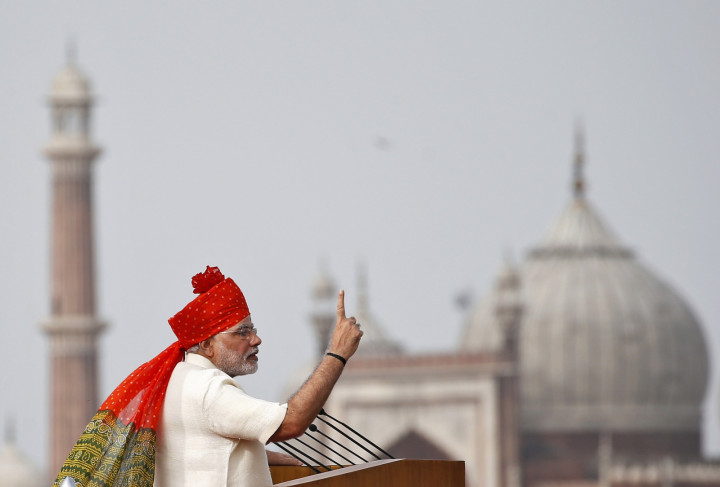 Indian prime minister Narendra Modi has announced his decision to scrap the Soviet-style planning commission.
The planning commission was widely seen as a Nehru-era relic and at odds with economic reforms.
In his Independence Day speech from the ramparts of the Red Fort in Delhi, he focussed on economic growth, tackling poverty and cleanliness.
In the first extempore speech after Jawaharlal Nehru, India's first prime minister, who addressed the nation 68 years ago, Modi touched upon inclusiveness, social stigmas and rapes.
Modi's maiden address was notable for the absence of a bullet-proof shield, which earlier prime ministers used in the wake of threats from terrorists.
Modi called upon the people to transform India from a nation of snake charmers and black magic into a digital India.
His major announcements included an insurance scheme for the poor, an ideal village project and plans to strengthen the manufacturing sector.
Calling upon people to declare a ten-year moratorium on violence, Modi said: "What has been achieved with all this violence? Nothing. Just a black mark on the nation."
On the appalling rapes reported in the country, he called for vigilant parenting. "Just as you ask your daughters so many questions when they go out, are you doing the same with your sons? After all the rapists are somebody's sons too."
With a stress on toilets in every household by next year, he promised that all schools in the country will have toilets with separate ones for girls.
In lines reminiscent of JFK's "ask what you can do for your country", Modi said: "Everything is not meant for us, some things have to be done for the country."
He said he dreamt of a day when he would be able to see "Made in India" labels on products all over the world.