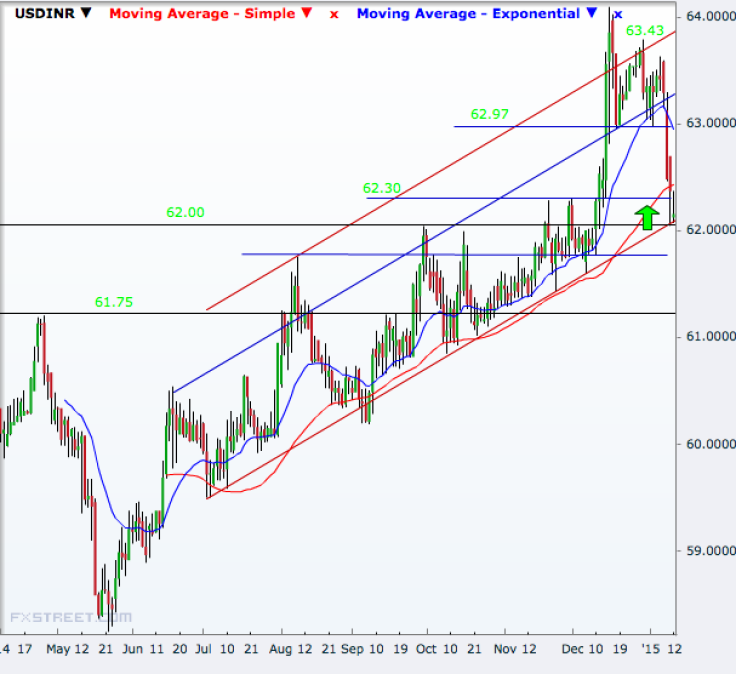 The Indian rupee continued upward against the dollar in early trades on Monday, adding to the sharp gains over the last week but moved off the day's high by mid-morning with the market bracing for trade balance and industrial output data due later in the day.
Technically, the USD/INR pair has hit the channel support on the daily chart on Friday before settling at a higher level. The pair fell back near the same support on Monday, making a rebound possible despite continued dollar weakness.
USD/INR dropped to 62.07 on Monday from the previous close of 62.37 and compared to Friday's intra-day low of 62.04.
The pair ended the last week down 1.47% adding to the previous week's losses and compared to the 15-month high of 64.10 touched on 16 December.
The dollar index, however, has been continuing upward until hitting a 12-year high of 92.53 on 8 January. The 0.44% drop in the dollar index on Friday helped the big drop in the USD/INR pair but market speculation of suspected central bank intervention in the rupee market by selling dollars also helped the pair's slide these days.
Now with the dollar down, despite a stronger-than-expected labour market data, traders do not see the likelihood of additional dollar selling by the Reserve Bank of India, leaving market participants with fundamental cues like data.
Data on Monday may show that India's industrial output grew 5.5% in November helped by Diwali boost, Moody's Analytics said on Friday. It compares to the October rate of -4.2% when manufacturing output fell 7.6%.
India's trade deficit is likely to have hit a large number in November as exports growth is slow even as relaxation of gold import rules adding to dollar outflow, according to analysts.
Beyond the short term impact of trade and IIP data scheduled for Monday, the market is in the process of shaping a view with the 2015-16 India Budget due later in this quarter.
Global headwinds like the slide of Russian rouble, faster than expected China slowdown and the likelihood of US rate hike in the near future are weighing on Asia, according to a Fitch note on Monday.
The fact that USD/INR has been keeping above the 50-day moving average for the past six months shows that slight break of the line on Friday is unlikely to stay longer, and reverse instead.
Such a rebound brings levels like 62.97, 63.40 and 64.10 in focus immediately ahead of 65.0 eventually.
On the way down, immediate levels to watch out for are 62.00 and 61.75 and as long as the 62 support holds broadly, the pair stands likely to hit the 65 mark later this quarter.