India's Opposition PM Candidate Narendra Modi Boosts Equities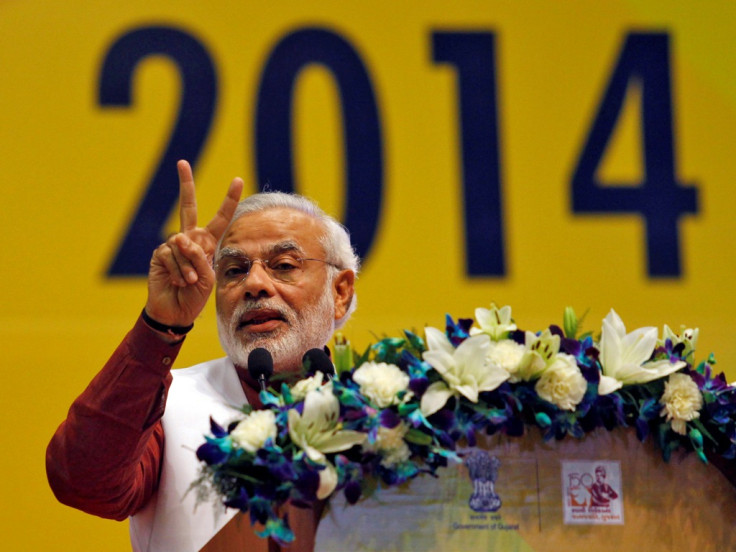 An increasing number of Indian investors are returning to the nation's $1.2tn equity market on hopes that the April-May general elections would deliver a government that can revive economic growth from a decade low.
That optimism is driving the longest stretch of mutual-fund inflows since 2009 and has helped the benchmark S&P BSE Sensex bypass the biggest equity losses worldwide in the three other BRIC nations of Brazil, Russia and China this year.
Indian investors are betting on the opposition Bharatiya Janata Party (BJP) led by Narendra Modi, who supervised annual economic growth of 10% as the head of the Gujarat state since 2001.
Modi has promised to boost investment if he takes power from South Asia's longest serving prime minister, Manmohan Singh. Results are due on 16 May.
Sensex Rally
The Sensex finished 0.14%, or 29.80 points, higher at 21,856.22 on 12 March, not too far from the historic high of 22,023.98 struck on 10 March.
Speculation that the BJP was gaining traction among voters supported Monday's rally even as the MSCI BRIC Index extended this year's decline to 8.6%.
"Investors are taking a view that the election outcome will be favourable and have begun to put money back into stocks, which is a good sign," Sam Mahtani, a London-based director of emerging markets at F&C Asset Management, told Bloomberg on 7 March.
India is the firm's biggest overweight position in emerging markets, he added.
"The market's read on politics is usually off-center," Saurabh Mukherjea, the head of institutional equities at Ambit Capital told Bloomberg TV India on 6 March.
"Investors shouldn't get too taken in by it."
Opinion Poll
The BJP and its allies would win some 232 parliament seats, just 40 short of a majority, according to a recent survey by Delhi-based Centre for the Study of Developing Societies (CSDS).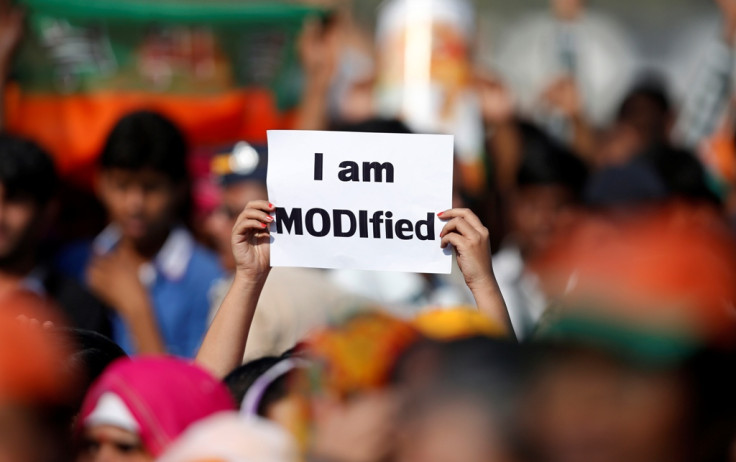 A Narendra Modi supporter holds a placard during a rally being addressed by Modi in Mumbai.
Reuters
Earlier, on 5 March, analysts forecast a stock market rally in the run-up to the month-long elections.
India's domestic equity funds attracted 30.5bn rupees ($500m, £301m, €360m) in the four months to February, Investors took out 243.5bn rupees over the previous 24 months, data from the Association of Mutual Funds in India showed.
Overseas investors have added $634.4m to the local stock market in 2014, the most among Asian markets tracked by Bloomberg after Indonesia. They purchased $20bn worth of shares in 2013.
BRIC Indices
Investors are buying in India even as they offload shares in China, Brazil and Russia.
India's Sensex has risen 3.3% this year. The Shanghai Composite index has shed 5.13% so far this year amid concerns over a slowdown in the world's second-largest economy.
Brazil's Ibovespa has lost 11%, pulled down by commodity exporters such as Vale.
Elsewhere, Russia's Micex Index has retreated 13% in the wake of the standoff between Moscow and Ukraine over the Crimean peninsula.
The Sensex has gained in the month before elections in each of the preceding six general elections, with the biggest gain coming in 2009 when the Congress party-led United Progressive Alliance was elected for a second five-year term.
© Copyright IBTimes 2023. All rights reserved.