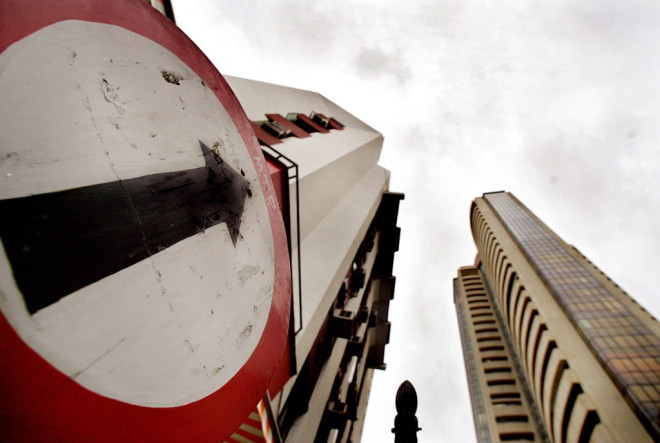 The Indian rupee rallied to its highest level in nearly three months on 6 March, tracking gains in the nation's benchmark stock market index, which struck a life-time high on steady buying by foreign investors.
Investor sentiment was boosted by 5 March's data that showed India's current account deficit narrowed to a four-year low in the December quarter.
The rupee was trading at 61.2675 to the US dollar at 1056 GMT, its highest since 11 December and stronger than its close of 61.75/76 on 5 March.
Gains in other Asian currencies also supported the rupee. Indonesia's rupiah rallied to a 16-week high.
Earlier, the benchmark S&P BSE Sensex struck a historic high of 21,525.14 points, surpassing its previous record high of 21,483.74 points touched on 9 December, 2013. It finished 1.1% higher at 21,513.87, adding 237 points during the day's trade.
Central bank data released post-trading hours on 5 March showed India's current account deficit (CAD) for October-December 2013 had narrowed to $4.2bn (£2.5bn, €3bn), or 0.9% of gross domestic product (GDP), from $31.9bn, or 6.5% of GDP, a year ago.
Rising exports and a drop in gold imports, after the government imposed restrictions on the import of the yellow metal, helped bring down the nation's CAD.
ANZ Research said in a note to clients: "We'd highlighted in our 13 December report 'India: In Gold We Trust' that the gold-led sharp improvement in the current account deficit (CAD) witnessed in Q3 2013 was likely to sustain through Q4 2013 and Q1 2014.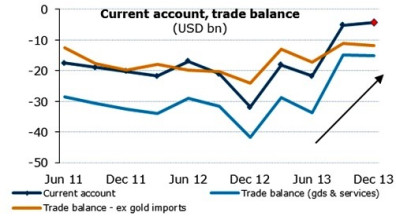 "Indeed, Q4 CAD data released last evening confirmed that, printing 0.9% of GDP (deficit of USD4.1bn) staying close to Q3's 1.2% of GDP (deficit USD5.1bn) and much lower than the ugly near 5% of GDP deficit print in Q2 (USD21.bn) as Figure 1 shows.
"As was the case in Q3, the key reason why CAD remained low in Q4 was because gold imports remained USD13bn lower compared with Q2. Markets weren't expecting the CAD numbers to be released yesterday as these were supposed to be released end-March. Hence there were no consensus estimates.
"Looking ahead, we still maintain that at least as far as Q1 2014 is concerned, the CAD is likely to remain low. Again a key reason would be low gold imports but there is also some support from sluggish non-gold imports. Even though exports haven't picked up much so far, the non-gold trade balance is running at about half the levels of 2012. Non-gold imports are unlikely to see a big-bounce back in Q1 2014 thanks to the still pretty weak industrial activity," ANZ added.
PNC Financial Services said in a 5 March note to clients: "Like in China and Brazil, higher benchmark interest rates in India will likely dampen growth in 2014, but this effect should be offset by stronger demand for Indian exports from advanced economies.
"India's general elections will be held from April 7 to May 12, with results to be announced on May 16. The center-right BJP party, who lead in polls, could open the door to more market-oriented economic policy and faster growth if they are able to form a ruling coalition."
Pre-Election Rally
Parliamentary elections in India, the world's largest democracy, will commence on 7 April and some analysts expect a stock market rally in the run-up to the month-long elections.
The Sensex has gained in the month before elections in each of the preceding six general elections, with the biggest gain coming in 2009 when the Congress party-led United Progressive Alliance was elected for a second five-year term.
Uncertainties about election outcomes have not prevented advances in the past.